Introduction

In the North of The Netherlands, there are a number of small islands. In the south they are bounded by the "Waddenzee" and in the north by the North Sea. These waters have always been very treacherous to ships and hundreds of them perished near the shores of the small islands.

Of the coast of Terschelling, numerous interesting wrecks rest. Some of them are very famous too. For instance, The Lutine, that went down in 1799, is still there and still holds most of the gold that it ones transported!

As you can imagine, the people of Terschelling lived of the water. Many of them were professional looters and walked the beach everyday to look for interesting items.
| | |
| --- | --- |
| harbour in Terschelling-West | Around 1976, when the art of SCUBA diving found it's way to the island. a new form of looting developed: the underwater looting. In the 1980's a diveteam was formed on Terschelling. It was called Diveteam ECUADOR, after a vessel that went down of the shore of Terschelling. The members of the diveteam are very passionate about diving, they have traced over 150 wrecks. The team has their own diving vessel, the URSUS. Ofcourse, 95% of their dives are performed on wrecks and they NEVER come home empty handed. |
| | | |
| --- | --- | --- |
| Photo courtesy Hille van Dieren | The team has their own clubhouse as well, in the harbour of Terschelling. You will not believe your eyes when you are invited in! The place is loaded with wreckparts and content of sunken ships. They have everything from 17th century bronze canons to WW2 Nazi daggers. But what do you do when there is no space left? Time to start a real wreck museum! | Photo courtesy Hille van Dieren |
| | |
| --- | --- |
| ECUADOR member Hille van Dieren, who also is a member of our Dutch Working Equipment Group DWEG, founded the Wreck Museum Terschelling. It is based in a old farmhouse that was built with parts of the Norwegian vessel CYPRIAN, that went down of the shore of Terschelling in 1905. Hille, who is a diving helmet enthusiast, has brought together an amazing collection of diving equipment, stuff that was found on the beaches and in wrecks. There are really thousands of objects inside and outside the museum. | |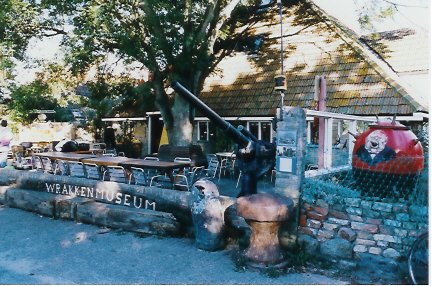 Front view of the wreck museum. Besides the huge cannon,
there is a great terras and a British sea mine with Winston Churchills' face on it!
Let's have a look inside!