If you have a piece of cutting equipment we can feature here please contact info@divingheritage.com
Diver using wet welding technique.


Divers were often required to work in difficult conditions. There may be poor visibility, racing tides or currents. The ground may be rocky, slippery or may be made up of soft mud , the diver sinking sometimes several feet in the mud with the weight of his equipment forcing him down . The water may be freezing and the diver may be wearing gloves to protect his hands from the cold or from sharp and jagged edges.

What may be a simple task on the surface such as sawing a bolt may take many minutes underwater. Every minute his tissues soaking up nitrogen from the compressed air and adding extra time the diver must take to return from the bottom to the surface.
It became obvious to divers and equipment designers alike that anything which could be used to help the diver would make a huge difference and pay dividends in saved time. One such contrivance , simple as it may be was the electrode holder or cutting and welding rod holder. They were designed to hang in a convenient place on the diver's belt . A right handed diver wearing it on the left side and visa versa. Often the mouth of the holder was flared to help the diver replace the rod if required . They had holes in the bottom to allow water to drain away on the surface and they were made from non corrosive metals to ensure they lasted well and didn't disintegrate whilst in use.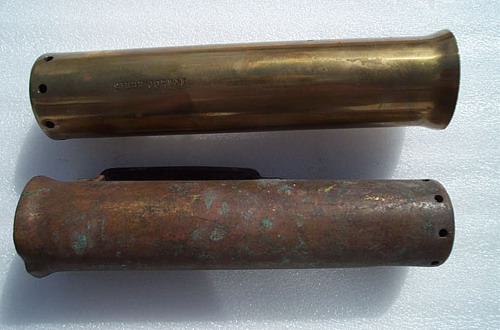 Producer: Siebe Gorman
Country: England
Year: 1940
Dimensions: 9 inches long x 2 inches diameter
Weight in air: 1 lb
Method of operation: Hung from divers belt by a copper bracket
One or two hand: One
Remark: Has a flared top and drain holes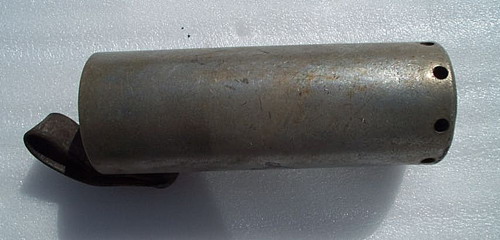 Producer: Unknown
Country: Unknown
Year: Circa 1955
Dimensions: 8 inches long x 3 inches diameter
Weight in air: 1 1/2 lbs
Method of operation: Hung from divers belt by a leather frog
One or two hand: One
Remark: Finish Nickel plated on brass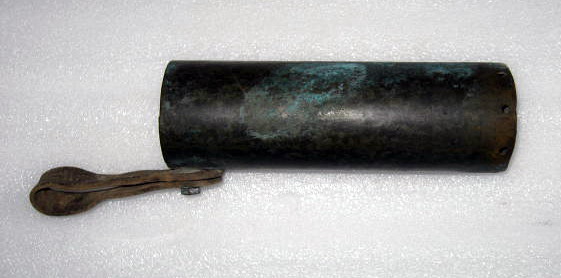 Producer: Unknown
Country: England
Year: Circa 1945
Dimensions: 8 inches long x 2 1/2 inches diameter
Weight in air: 1 1/2 lbs
Method of operation: Hung from divers belt by a leather frog
One or two hand: One
Remark: Finish- Nickel plated on brass with drain holes
Last edited 15th August 2006