Palumbarus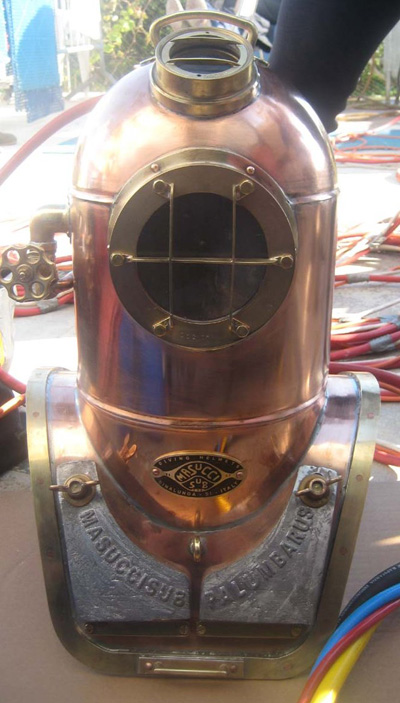 The Palumbarus Shallow water helmet or Open helmet has been designed by Maurizio Masucci who is an associate of the HDS Italy, and from a suggestion of Alberto Gasparin who is also an associate supporter of The HDSI.
Alberto is the owner of The Palumbarus Diving Works from which the helmet takes its name.
The design is from Gasparin and the OTS School CE di FoP ( European Centre of Professional Formation) in Palermo in which Alberto is an advisor.
Brass parts are precision machined and careful attention is paid to detail. The Palumbarus Helmet is a typical shallow water helmet but with certain characteristics. The inside of the helmet , for example, is completely tinned and as you can see from one of the pictures above there is an air regulating valve to control the air flow into the helmet. The incoming air also passes through a diffuser to spread the air flow across the front porthole. The Copper plate is 1 mm thick and the front window is made from bronze and brass housing the 6 mm thick Lexan or armoured glass.


The helmet weighs 6 kilos and carries 3 kilos of lead weight evenly distributed over the shoulders. The inner volume is approximately 18 litres. The design, with the lead in this position means the helmet is perfectly stable when worn in the water. There is a handle on the top of the helmet facilitating ease of donning the helmet for both the diver and attendant. Modern methods of manufacture and use of modern materials such as the Lexan window and glues using cross linking polymers make the helmet a modern equivalent of an old classic and additions such as the soft shoulder padding make the helmet comfortable to wear both in the water and out of the water.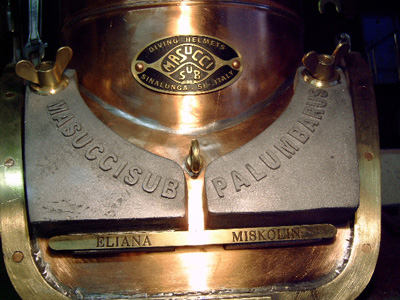 Each helmet , built to order has the owners name attached to the front of the helmet below the lead weights.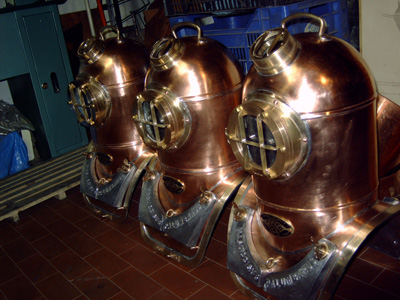 Helmets awaiting delivery to their new owners.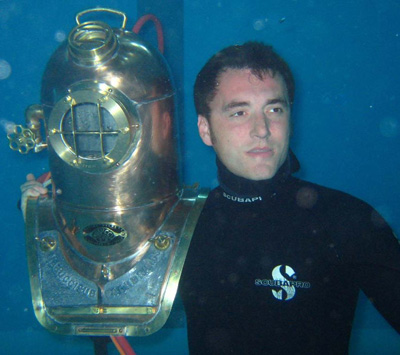 The Palumbarus helmet has been tested in swimming pools and in the sea in Palermo since 2007 and been used enthusiastically by divers and would be divers from the age of 5 – 61 years old.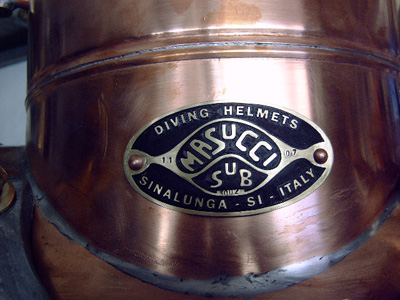 The company name badge is affixed to each helmet. For more details and how to obtain one of these working helmets contact Maurizio at masuccisub@alice.it
Last edited 22nd November 2011