I am looking for information on classmates of the Divers School in Pearl Harbor March of 1970........ One individual in particular I am looking for was stationed with me on the Bolster before we went to school. I am enclosing a photo of the graduates, maybe that will prompt some feed back from them.

Thanks

Eloy Ramirez HT1 (DV) USNR Ret.
Bolster ARS 38 "68-69"
Quapaw ATF 110 "70"
Abnaki ATF 96 "70-72"
---
Hello, I graduated from 2nd class school in Pearl in 1958 then scuba school same place. Is there a way to find out the names of my classmates in that period? I'm 70 now, and us bubbleheads have frequent memory loss (lol)
Thanks
Leon Sokolic
Uss Abnaki ATF 96
leonatl@bellsouth.net
---
In this section you will find messages too short for a regular update but interesting enough to publish. New messages will be added from the top. You have something to share with our viewers or you are looking for your old diving buddies?
Contact us at info@divingheritage.com.
---
The MKV Monument committee is currently working on the commissioning of a 10 foot high bronze statue depicting a MKV diver. It is to be placed in front of the US Navy Dive School in Panama City Florida. The Statue is to be donated to the Dive School by the (not for profit) MKV Monument Committee.
Please follow the link to find out more about this project.

---
The University of Aberdeen is establishing an Oil & Gas Archive as part of the 'Capturing the Energy' initiative, which aims to record the UK's oil and gas industry. We would like to hear from any divers interested in taking part in the oral history programme. In particular, we are keen to find Vic Johns (former diving superintendent on MCP-01) and Elizabeth Cornwell (the North Sea's first female professional diver). For further information please contact Kathryn Steenson, Project Archivist at energyarchive@abdn.ac.uk or 01224 272 972, or visit http://www.abdn.ac.uk/historic/energyarchive and http://www.capturing-the-energy.org.uk
---
Information about the late Max A.W.Reiher
Hi to Diving Heritage visitors. We are currently looking for any information about the late Max A.W.Reiher. Perhaps you remember him from the time he spent in Louisiana in the 60 s 70 s and 80 s , working for Dick Evans Inc and the McDermott. Max was a member of ASME. Gas blenders that he developed are used by NASA in California. Max had 7 patents for breathing apparatus of various types . Max was originally from Germany and moved to Canada before working in Louisiana. Please send us any information you can to info@divingheritage.com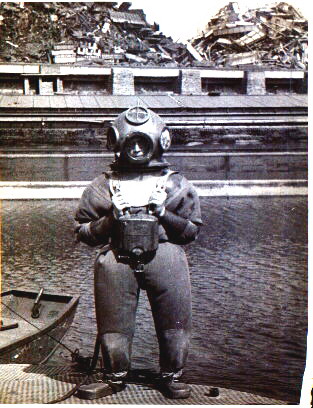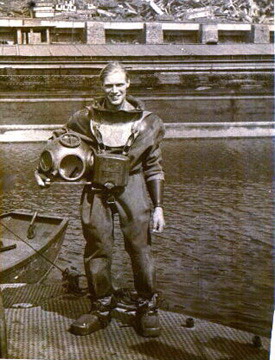 ---
Dive Dynamics AH - 3 Air helmet
Wanted - any information including photos on the Dive Dynamics AH - 3 Air helmet will be gratefully received . Parts lists drawings safety tips etc...Any information available please mail to info@divingheritage.com
---
Passing away of Bill Meistrell
It is with great sadness we report on the passing away of Bill Meistrell on the 25 July. Many will know Bill from his time with Body Glove and previously with Dive N Surf . Bill was a Member of the Advisory Board of the Historical Diving Society USA
---
Passing away of Carl Brashear
Carl Brashear USN Master Chief Diver sadly passed away on 25 July at the Naval Hospital Portsmouth Virginia. Carl Brashear was the first Black US Navy Diver and served with the service for over 30 years. In 1966 he was tasked to recover a hydrogen bomb off Spain when two US Air force planes collided. It was on this mission he was injured and had part of his leg amputated. Despite the Navy wishing to retire him he regained his fitness to dive and in 1970 he became a master diver.His diving career was portrayed in the film Men of Honour.
---
Air fitting required
Hi Diving Heritage readers. I am looking to buy an air intake coupling that will attach to a Russian helmet on one end and up size to a US 1 1/16 thread on the other. If you can help please mail info@divingheritage.com with thanks Master Chief.
---
Information required about Ray Goodson
Hi Diving Heritage visitors we are looking for an any information regarding Navy Diver Ray Goodson.
Ray went to the diving school in Bayonne NJ and became a Master Deep Sea Diver. Perhaps you went to the Diving School with him or knew him during his internment as a Japanese POW during WW11. Sadly Ray passed away on May 11 at the age of 85. Ray's daughter is collecting information for a book on Ray's life and his accomplishments and would welcome any information you may have. Please email us at info@divingheritage.com
Here is a picture of Ray in his diving gear in the 1940s.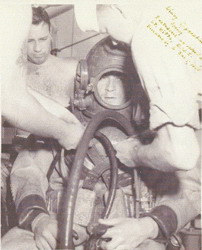 Please click the photo above
to see a enlarged version

---
Information on Steve Stokes wanted
I am looking for any old documents, records, or pictures of a retired Deep
Sea Diver Steve Stokes, age 44 now living in Panama City Florida. Any
information you might find please e-mail me at paperclip850@hotmail.com
Thank You, Abby Stokes
---
Deep sea monster discovered
What did you say? Deep sea monster? All the girls screemed when a horrible looking creature came up the diving ladder. We soon found out it was just a DWEG member who got involved in a underwater weed fight.
---
Sabotage under Water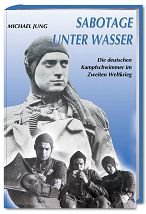 "Fighters of the Sea" the first frogmen of the German "Wehrmacht" used to call themselves. Founded in 1943 as an element of the military secret service they were one of the "Kriegsmarine´s" most important nuclei of the so called "Kleinkampfverband" in 1944. Its main mission was to explore the opponent´s port facilities, to eliminate the enemy´s vessels and to destroy bridges and floodgates in inland waters.
Origin, employment, equipment and training of this legendary special unit as well as its incorporation into the command structure of the "Wehrmacht" are until today only fragmentary documented in scientific investigations. The main reason is that corresponding records were almost completely destroyed. Furthermore many of the still living veterans feel themselves bound by their oath of secrecy they swore at that time.
In this domain Michael Jung carried out basic groundwork. In long-standing research work he systematically evaluated hitherto unknown archive records and inheritance of the involved central figures and makes the revealed information accessible to the public for the first time. Main sources are the tape-contained recollections of Alfred von Wurzian who established "Kriegsmarine Lehrkommando 700" (=Training Command 700) in Valdagno/Italy which all German frogmen came from. Major findings were discovered in the war diary of Dr. Armin Wandel who, as a naval officer, was the former commander of this secretive community.
Based upon these documents Jung not only succeeds in closing gaps of knowledge in the history of origins of the "Meeresjäger-Abteilung Brandenburg" (=Sea hunter Detachment Brandenburg), the forerunner of "Lehrkommando 700" or the background of the division of "Kriegsmarine" and "SS" in 1944. He also offers a detailed interior view of this elite troop. From problems with their equipment over the physical and psychical preparation of these men up to the breath-taking delineations of spectacular crucial tests he opens a comprehensive insight into the exciting routines as well as the motivation of these crack fighters.
The Author
Michael Jung, born 1962, academically trained engineer, is director of "Hans-Hass-Institut für Submarine-Forschung und Tauchtechnik" (=Hans Hass Institute for Submarine Research and Diving Technology). For his numerous contributions to the research into the history of diving he received the Art-Bachrach-Literary Award.
Michael Jung
Sabotage unter Wasser
156 pages, 16 x 24 cm
50 b/w-pictures., hard cover with jacket
€ (D) 24,90 / € (A) 25,60 / SFr 43,70
ISBN 3-8132-0818-4
published by E. S. Mittler & Sohn GmbH, Hamburg
Tel.: ++49-40-797 13 202
Fax.: ++49-40-797 13 304
E-Mail: s_scheu@koehler-mittler.de
Internet: www.koehler-mittler.de
---
Draeger high altitude high pressure suit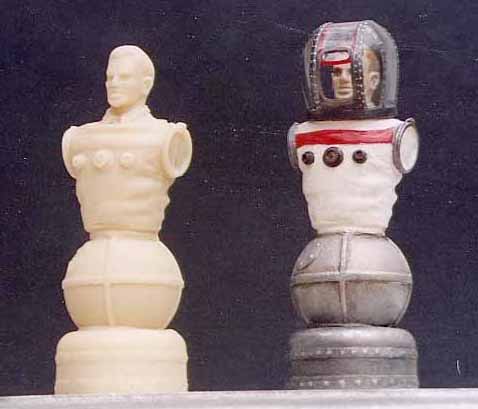 I'd be very grateful if anyone has any information on the Draegerwerke high altitude pressure suit, in particular the colour of the fabric suit. Apparently, the only extant photograph is in black and white. I realise that this is not really the place for discussion of flying pressure suits, but someone with an interest in Draeger may be able to help.
Regards and best wishes,
Trevor Sproston
---
PADI's Underwater Walk
DWEG member Kees de Jonge developed the "Brass Helmet Diver" PADI specialty in the past. He is now PADI's first Shallow Water Diving Helmet Instructor! Kees developed "PADI's Underwater Walk". This program focusses on divers but most of all, on non divers. Let's say wifes and children that visit diving resorts with their diving relatives and want to have a look in the marine world, without beeing a licensed diver. You can become a Shallow Water Helmet Diver or an Instructor. Stay tuned on DivingHeritage because we will soon tell you all the details. We took the course and I can assure you: it is GREAT fun!!!!
Contact Kees at helmduiken@chello.nl or 0031 492 511 795
| | |
| --- | --- |
| He who supplies air to other divers.... | Gets to dive himself as well..... |
---
Looking for my uncle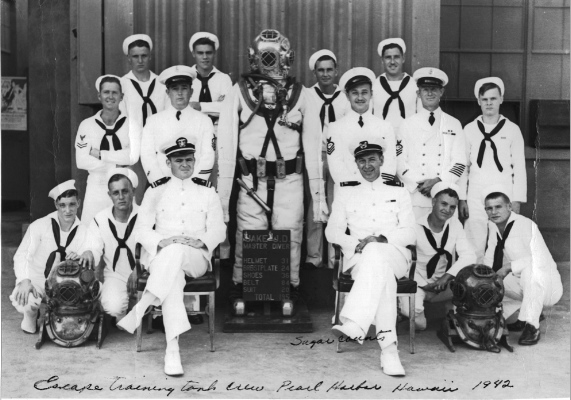 My uncle, Emmet Counts, is the Warrant Officer seated on the right. He was known by his shipmates as "Sugar" Counts because he had been a navy boxer in his younger days. Emmet received a bronze star for his diving efforts on the Arizona, Nevada, etc., after the Japanese attack on Pearl Harbor in 1941. Wonder if anyone still out there who remembers him or any of the others pictured in this photo?

Regards,

Harvey Counts
hlcounts@adelphia.net
---

The book can be ordered at our bookstore

Les Plongeurs de l'Histoire by Philippe Damon


The book ""Les Plongeurs de l'Histoire"" is a description about the different techniques that were used in France allowing men to work under water during the fist half of the 19th Century. The restricted use from the diving bell has inspired the inventors to create individual equipments with better performance. The general French history, related to the evolution of individual diving apparatus has until now only resulted in a few names of more well known inventors.
Alas, the history recognizes only the ones who were successful.

The birth of a invention or a system, is however the result of a considerable amount of ideas, research, time and persons.

In his private-edition ""Les Plongeurs de l'Histoire"" Philippe Damon highlights the ""small inventors"", who delivered undoubtedly their contribution on the background to the successes of the reputable firms.

The book (18 x 24 cm) counts 164 pages and covers 25 inventors. The book is provided with over 50 drawings and pictures of original documents, of which a part in colour.
---
| | |
| --- | --- |
| In april 2002, Lloyd Scott, age 40, finished the London Marathon. For many people this alone would be an enormous achievement. Lloyd however did it in a full hardhat divers outfit weighing 130 pounds! He walked about 4.8 miles a day. Lloyd has done 8 London marathons before without the dress. At the end of the race, Lloyd raised over 100.000 pounds for cancer and leukaemia charity. In 1988, at the age of 27, Lloyd was diagnosed with leukaemia. This changed his life completely and with his sport he finally beat the cancer. He has undertaken other adventures like running across the Jordan desert dressed like Indiana Jones, raced through death valley, tackled Everest and walked the South Pole. I'm curious what he will come up with next! | inset picture shows Lloyd during his battle against Leukaemia |
---
---
Hi I am trying to find info on my father, a Navy hardhat diver. from WW 2 and Korea. I would like to find out about where and with who he served. He died when I was 18 my parents were divorced when I was 10, and I never got to know him well. That would be Harry Barr Johnson Jr. AKA Duke Johnson. He was in San Diego in July 28, 1942 at Group 3 schools. Class of 1-43, metalsmiths & Carpenters July 28, 1942. Todd Bliven Pager 954-878-0916. If you know anyone in the photo maybe they might be able to help in my quest.
Todd Bliven <T_Bliven@siesystems.com>
---
I'm looking for old deep sea diving pictures they can be replicas preferably US Navy divers hatting up in MK V. please give me a buzz.
Steve Cole <steph-cole@mailcity.com>
---
I have plenty of contacts to be made for correspondence, diving talk,equipment trade / sell, etc. I have an operational Korean 4 light helmet, a No. 4 Yokohama dress a No. 3 Chinese dress, standard Navy Lt Wt diving shoes and weight belt. I belong to a unit called UHEXSO. We do rallies and dive demonstrations wearing this and other dive helmets, such as the MKV,Sebi-Gorman and Russian 3 bolt. Would like to correspond, via e mail or snail mail. Will answer all letters. Pete Petrisky Deep Six Diving and Salvage
Pete Petrisky <oceandvr@flash.net>
---
I graduated from USN Deep Sea Dive School Class 8415 May 84 Ford Island, Pearl Harbor in the class AFTER the MK5 was retired. Damn missed it by that much:0! I have a Siebe Gorman from Pre 1900's would like to find out more any "SG" Guru's out there? I grad Class 8415 any others out there? Have been treasure hunting/diving and surveying vessels ever since. Awesome job! Hoo-yaa! Deepsea! JD
Jeff D'Alessandro <marinesurveyor1@home.com>
---
I dove the Arizona on 12/07 1941. Any one out ther that remembers me? Found this site, excelent brings back many memeries some good, Had head injury somethings not so good. Thanks in advance D.P.J
Donald Johnson <jigger@icx.net>
---
I graduated Salvage Diving School, December 1954, Class #57 I was one class behind Carl Breshear and Joe Fontana. They were both good friends of mine. I enjoyed the web site. I just watched the movie "Men of Honor". This was a very good Hollywood "story" line...but the Navy portion of this movie was in every sense of the word "false". Any one from this class #57 or any other divers please contact me.
Andrew Adams, Jr. DCCS(MDV) <aadams@2fords.net>
---
I graduated US Naval School Salvage, Bayonne NJ, Marck 1953, class# 46. I would like to hear from Gus Moore, my classmate, a very large, very BLACK hell of a good guy from San Deigo, Also Any of my old associates. Served aboard ARS 41 USS Opportune from 53-54. Hope to see some of you at DIVER RECALL, Check that webpage for details. Ken Wilkinson, DC2DV
Ken Wilkinson <isafe@earthlink.net>
---
Former Navy Diver, Graduated from Pearl Class 0479. Loved diving the Mark V, Mark 12, Jack Brown, Mark I and Scuba. After graduating school Served on the USS Yosimite AD-19, SIMA Mayport, Harbor Clearance Unit (USNR), Mobile Diving and Salvage Unit Det 220 San Francisco (USNR). Currently In the Individual Ready Reserve. HOO Ya Deep Sea!
Jonathan Ramey <usndvr79@earthlink.net>
---
Just been to Bali for three weeks.I visited a antiqe store in Kuta and found about 7 diving helmets, new and old ones. (like the Mark V and XII) Prices between 1900-2500 USdollar. They said they were real ones, and yes they looked real, but after studying some of the newer ones I realized they were fonies. Thanks for a great divingsite
Andreas Edler <andreasedler.hotmail.com>
---
I began diving in Australia in 1960 and have a modest collection of books, scuba gear and a hard hat used in Hong Kong (but I have no idea what the brand might be). I am looking for old oxygen rebreathers. Who can help?
Stephen K. Taylor <Deputy821@aol.com>
---
Hi, My great grandfather William Lockyer was a Royal navy Diver, trained on HMS Excellent in 1870/80. I would like any information that deals with this particular arm of the Royal navy during this time. I think he may have been a ships diver as he seems to have moved from ship to ship quite often. I would appreciate any assistance whatsoever. thank you sandy
Sandy Mckeen <sandym@equals.co.za>
---
GRADUATED SALVAGE DIVING SCHOOL IN 1954, CLASS BEHIND JOE FONTANNA AND CAROL BRASHEAR. GRADUATED 1ST CLASS DIVING SCHOOL IN 1956. DID DUTY ON USS COUCAL ASR-8 OUT OF PEARL HARBOR. DUTY ABOARD USS PETROL ASR, WAS DESIGNATED MASTER DIVER 1962. DID A TOUR OF DUTY AT THE MINE DEFENCE LABATORY PANAMA CITY FLA IN1963-64. LAST TOUR WAS AT SUBIC BAY PHILLIPPINES AT DIVING SCHOOL, 1966-67 RETIRED IN 1967. NOW LIVI IN SOUTH TEXAS. ANY AND ALL BUBBLE HEADS GET IN TOUCH.
ANDREW ADAMS JR. DCCS MDV RET <aadams@2fords.net>
---
Hello, I am a retired Navy Deep Sea Diver. I was in the last class at Pearl Harbor that trained in MK V before they brought out the plastic divers!!! Hu ya Deep Sea Divers. Keep up the great site. Any one out their that graduated from Pearl Harbor in Oct 75 Give me a shout.
Scott M. Cook <Scottcookmats@aol.com>
---
Hello to all Divers Training Academy Graduates from 1 9 6 7! I would like to hear from you. Is it possible to obtain are C-Cards & DIPLOMAS?If so where? If you have any photos and stories i have the time.Please contact me at : p.o.box 2163,miami,fla.33233.Thanks Ed!
Ed Fineman <shellcarver1@yahoo.com>
---
Last edited 2nd June 2009