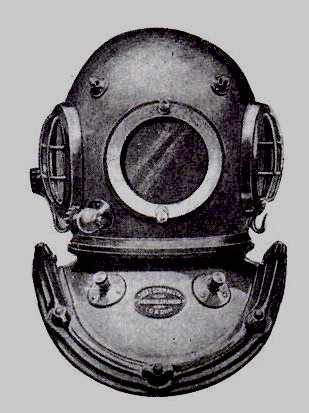 Siebe Gorman & Co 8 Bolt Diving Helmet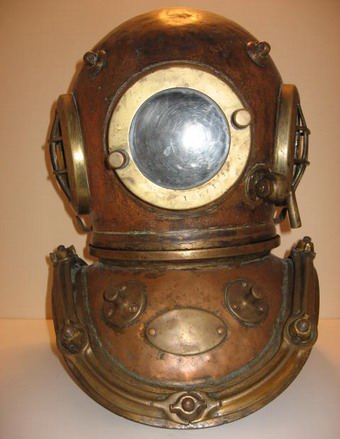 RH Davis Original Patent
This helmet is fitted with eight bolts not the more common 12 bolts or 6 bolts . There are 4 brailles with a raised ridge adding strength to the brass. The pattern ensures a thoroughly watertight joint between the helmet and suit. The front window could be fitted with metal crossbars if required. The catalog code for this helmet was EIGHT.
Side view of the 8 bolt helmet . The outlet valve can be regulated by pressing the head against the disc on the inside of the helmet.
Generally, unless otherwise specified this type of valve was one of the types fitted if there was no telephone fitted to the helmet.
Rear view of the 8 bolt and a later 6 bolt helmet. The bonnet size is larger on the later helmet .
There is no telephone connector on the earlier 8 bolt. The helmet locking device is the same on both helmets.
Last edited 1st February 2007