US Navy Mk-V
Schrader is one of the companies that produced the Mark V for the US Navy.
Tinned helmet number H 78 from 1918


This is another A Schrader's Son Ins. Mark V helmet from 1918. This helmet is in superb condition with just a few minor bumps.

The 4 point exhaust valve handle as seen below has "Pat Pendg" inscribed which suggests this is before the BTE inscription was adopted.


The helmet bears the serial number H205 which is just 10 numbers before the helmet illustrated below.
The date is however the same, May 3 1918 suggesting the company was quite prolific at producing helmets at that time.

Photos courtesy of RJ Timmermann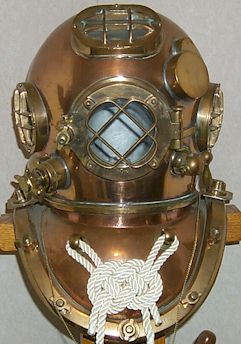 Helmet number H 215 of May the third 1918 belongs to our friend Joe Fontana Jr.
Read the incredible career story of his dad who is in our Hall of Fame.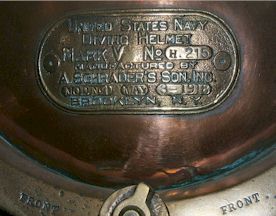 Helmet number H 264 from 1918. Dents were taken out of the bonnet and the air channels re-installed. That's what caused the black stains.
Helmet number 303A dates from June 1942. We love this helmet.

Helmet # 599A from late 1942 faced some serious modifications: Comm box, spitcock, banana exhaust, comm elbow, front face guard were removed. Guards over front and sidelights were changed. A different style exhaust, lanyard hooks and eyes to the front of the bonnet were installed. Photo courtesy of Didier Hannaert.
This tinned helmet number 815B from august 1943 belongs to our friend Barry Bock.

Helmet number 977B dates from october 1943. Notice the tag now contains USA as well.



Helmet number 1513B dates from February 1944. Notice all four brales are missing.
A modified Schrader Mark V helmet. On this hat the telephone facility was removed as well as the banana exhaust.
The original air-outlet was moved further to the back of the bonnet. Brought home to the States from Chile by Leon Lyons.
Last update: 17th December 2008