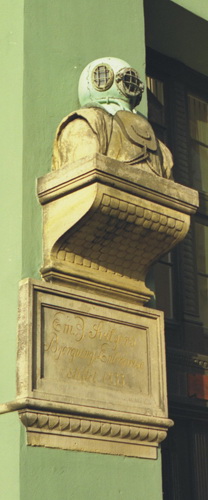 An original Sadler Helmet can be found
outside the former headquarter of The
Svitzer Salvage Company in Copenhagen.
Photo courtesy of Sven Erik Jørgensen
Sadler of London can be traced back as far as the time when English Helmet manufacturers were in their infancy.
Back as far as 1839 Sadler helmets together with Bethell helmets were used on the salvage of the Royal George under the supervision of Colonel Paisley.
The Sadler helmet and dress system was similar to that of the Deane's open water dress design but in 1840 the arrival of the Augustus Siebe equipment overshadowed the Sadler equipment and The Era of Augustus Siebe 'The Father of Diving' began.

Soon after 1840 Thomas Sadler converted his helmets to the closed style. There were distinctive features in his design. The faceport was small and the bonnet particularly flat on top. The closed dress design helmet had 10 bolts and are recorded as being used in 1850 on the Channel Island of Guernsey in the construction of the port there.

Photographic evidence of an earlier helmet , being the open dress design can be found in the photograph below.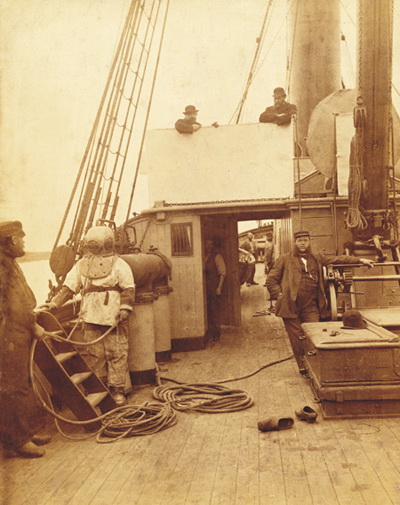 A diver from the Svitzer Company of Copenhagen is seen here wearing the open dress.
The picture can be dated to 1873-1882, the picture being taken on board the salvage vessel Kattegat.

The picture was found in the Seamen's Club in Nakskov and donated to the Dykkehistorisk Selskab (Historical Diving Society, Denmark).

The helmet in picture above has the same upward bent edge of the breastplate as can be seen on the helmet displayed on the former headquarter of
The Svitzer Company in Copenhagen. It is possibly the same helmet. On close examination you can see the convex glass in the front window of the helmet.
Photo courtesy of Sven Erik Jørgensen