12 bolts (continued)
Helmet number 3575. On the tag it says: "A.J. Morse and Son"

Helmet number 5991. On the tag it says: "Morse Diving Equipment Company"

| | |
| --- | --- |
| | |
| | Helmet # 6176. Photo courtesy of Melissa Fish. |
| | |
Helmet # 6363 was manufactured May 26, 1949 and sold to the Canadian National Railway. Photo courtesy of Dave Carr.


12 bolt 3 light commercial helmet.

The helmet (serial # 6395) was manufactured in October 1949.
The helmet was sold to the City of Evansville, Indiana.
Photo courtesy of Michael R. Weigner, G.G.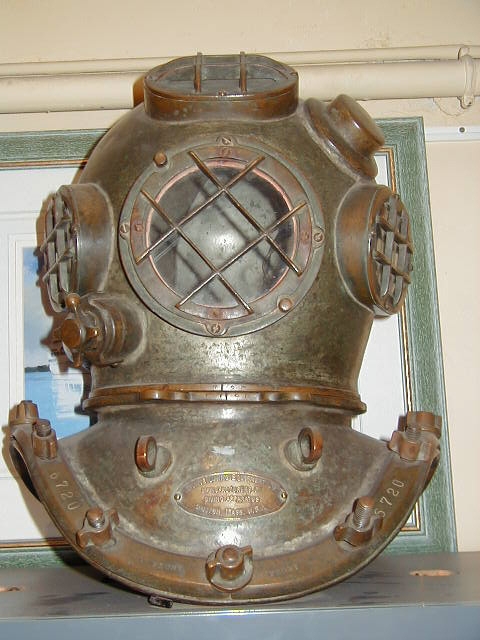 Another nice picture of helmet # 6720, contributed by Robert de Geyter.

How about that! Two numbers up. Helmet number 6722 dates from 1960. Notice that Morse numbered the bonnet and the breastplate at the neckring.
Photo courtesy of Seahawk company.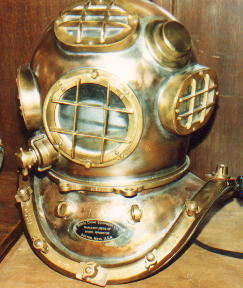 Helmet number 6781. In fantastic condition.
12 bolt 5 bolt
This helmet has lashing lugs on the bonnet This is helmet number 1601.

The first we have seen of its kind, there is an applied
plate below the makers plate referring to Mark 1.

Side view - The helmet is attached to the breastplate by
5 bolts rather than the more common interrupted thread method.

Rear view- Here we can clearly see the classic
shape of the wider breastplate found on older helmets

Photo courtesy of Tracy Scala


A tinned 12 bolt-5 bolt. On the tag it says: '" A.J. Morse and Son". The oval side windows are in vertican position.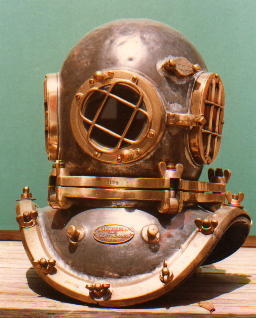 Another 12 bolt- 5 bolt helmet, number 1156. The bonnet is attached to the corselet by large wing nuts.
Photo courtesy of Leon Lyons.
Sponge divers helmet
Sponge divers helmet made especially for J.S. Smitzes of Tarpon Springs Florida. Notice the large faceplate intended to improve the diver's view.

Here you see a Morse 4 light commercial helmet that Morse sells today. Courtesy of Morse.
Fisheries helmet
Often described as a Fisheries helmet this Single-Light, sectional screw helmet as described in the 1937 catalogue has a large curved non fracto face-plate.
This helmet is well adapted for work where the diver requires a wide range of vision and the water is clear.
It was often used in the Californian Abalone industry. The bonnet closely resembles the Morse shallow water helmet design.


The makers badge is the traditional badge of the times and below is the tag which dates the helmet to around 1939-1941. We understand this model was made from around 1930 - 1950.

Photos thanks to Richard Donnelly
Make sure to visit our modern Morse section
Last edited on 17th February 2013