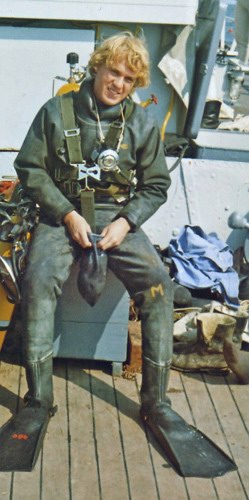 Seen here is Wil Kuijpers from Holland preparing for a dive in the North Sea.
He is using a compressed air set made by Loos & Co. ca. 1972 Check out
the French section of the Virtual Knives Collection. You will see the La
Spirotechnique knife used by Wil on the training vessel Hr Ms Soemba in
Den Oever Holland around 1972. Photo courtesy of Wil Kuijpers.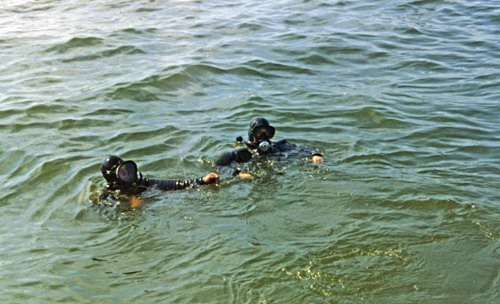 This picture was taken moments later. Wil and his buddy can be seen here using
the compressed air set type Loos & Co D2. Wil's buddy can be see using the full
face mask which was designed for the Navy for this type of set. A nose clip was
used with the full face mask to allow the diver to equalise the pressure. The scuba
type configuration with a separate regulator and mask was an unusual
arrangement not often found in the Navy in those days.