Can you help solving some misteries? Please contact us!
Number 6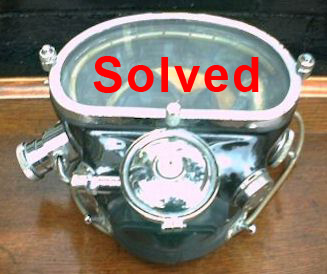 Picture contributed by Grant Golmore
Mystery number 6 solved by Eric Souverville. This is a Comex MK 1 band mask.
For more pictures of a similar mask please visit the Comex Chapter
Number 5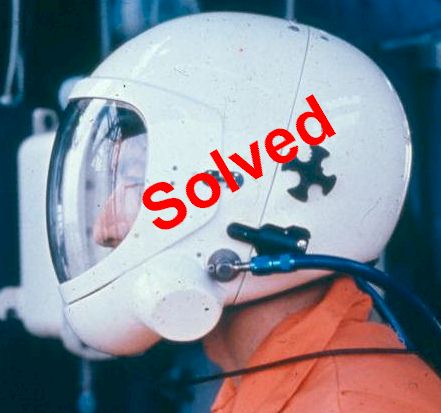 Picture contributed by Jean Pierre VAN TIL.
Solved!

Dear Folks:
What you have here I beleive is not a diving
helmet at all. I think what you have is a sixties
version of a rare USAF pilot's helmet. I beleive it
was called The Partial Pressure helmet. I don't know
it's designation #. It sometimes had an internal
Oral-nasal mask inside it. This one's I believe
supposed to be worn without a pressure suit as the
lack of a yoke collar would suggest. Honestly: this
looks just like the helmet worn by the Soviet
opposition Pilot in the movie Fire Fox!!!

Dreaded 88,
The Seven-time Carmageddon World Champion

thanks Dreaded!
Gentex manufactured the Liftoff/Reentry Helmet for NASA's Space Shuttle crews before the Challenger disaster.
Chris Johnson tells us
I was once told via email by an employee at Gentex that the helmets worn by Clint Eastwood and
the enemy pilot in Firefox were in fact stripped-down versions of the Liftoff/Reentry Helmet.
Thanks Chris
Number 4
Picture contributed by Richard Adams. The name WILSON is on it. It seems that the eywlashed were intended to hold down weights. Who knowns more about it?


Solved! It is a sand blasting hood!
Thanks to Buzz Dickson for his help on this part
Number 3
Pictures contributed by Leon Lyons
Number 2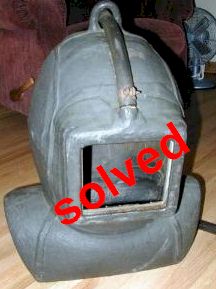 Picture contributed by Earl Wentzel. There is a hose running over the top and entering the hat at the front.
Solved!
Again, we are dealing with a sandblasting helmet.
Watch out because sometimes these are sold as early shallow water diving helmets!
Number 1
Picture contributed by John Salsbury. Could it be a Widolf?
Last update: 15th December 2009