Company Information
This company has been in the business since 1837 supplying materials and equipment continuously for 170 years, originally to The War Department and as it became known later The US Navy. To-day as throughout its history The Morse Diving Inc. company supplies to the Navy and Commercial contractors and hopes to do so for another 170 years. To-day the head of the Company is Ken Downey who has been employed by Morse for 32 years and has been in charge since 1998.

Morse Diving Inc. is famous for the Mark 12 helmet ,used by the US Navy. It has now been redesigned to make it suitable for the commercial market where it is in great demand by commercial divers as well as Navy divers.

A bailout option is added as well as a commercial communication's system and adaptability to modern air hose hook ups. Price wise the MK12 is a higher priced air hat than the competition, but Morse sticks to Navy Standards and test procedures to ensure the finest quality.
Mark 12 Surface Supported Diving System (MK 12 SSDS)
The helmet is made of fiberglass with nickel plated bronze fittings. The neckring holds an o-ring for a watertight joint. The U.S.N. Mark 12 SSDS is uniquely capable of diving with air or mixed gas as the breathing medium in either open circuit
or semi-closed circuit configuration.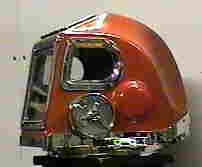 A Mark 12 helmet from 1970 in absolute new condition. Later the helmets were only delivered in yellow.

A surface supplied Umbilical which includes communication/lifeline cable, diver's breathing hose and a pneumo-fathometer hose delivers communication and life support to the USN MK 12. Standard Dress consists of a dry suit, outer cafing garment, jocking harness, lightweight diving boots and gloves. Two, four and five pound lead weights fit into the calf, thigh, and hip pockets of the outer garment. Most other wet and dry dress configurations are compatible.

Morse MK 12 from 1985 in fantastic condition

In the open circuit mode breathing gas is supplied from the surface via the umbilical hose, thru the gas supply adapter, which
contains a non-return valve. Internally it passes thru the adjustable gas supply valve to the diffuser assembly. The low noise
diffuser directs the gas upward across the front viewport for defogging.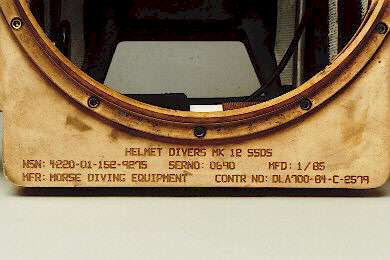 Type and serial numbers stamped in on the bottom at the front side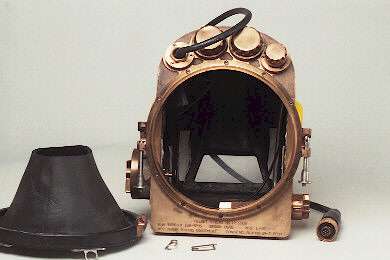 Bottom view. The connections from left to right: telephone, 2 recirculator hose adapter caps, breathing gas (air) supply cap. On the left you see the neck dam seal.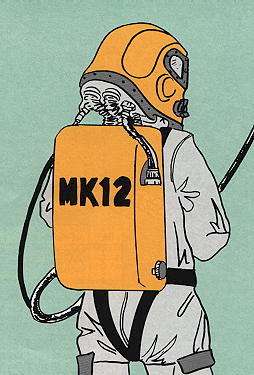 Drawing of semi closed circuit operation
Besides the MK12 Navy hat Morse now offers the MK12 Air hat. It features a double exhaust, bailout hook independent of the surface supply, and a new commercial marsh marine type hook for the modern communication systems in use today. This hat mates well with KME and Viking suits for diving in those places that require marine safety and clean and safe diving.
Courtesy of Morse
Last edited on 23rd May 2007