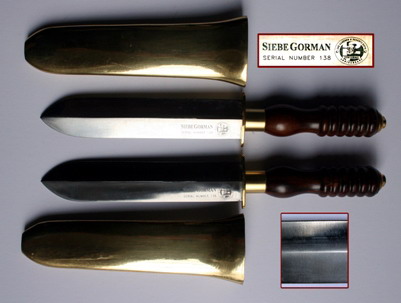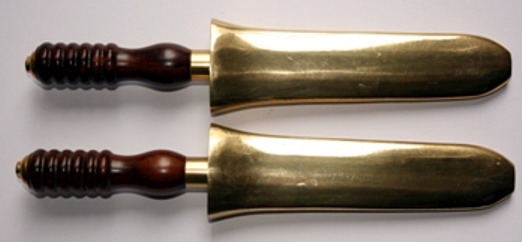 Photo courtesy of Dr Mike Burchett
Producer: Siebe Gorman & Co. Ltd.
Type: Push in with spring grip
Estimated DOM: 1995
Weight: Knife 380 gms : sheath 500 gms
Total Length: 337 mm (13.25 inches)
Blade: Steel length 196 mm (7.7 inches) X 38 mm wide (1.5 inches) : straight , double sharp edges on one knife : one sharp and one finely serrated edge on the other paired knife.
Inscription: SIEBE GORMAN with 175th anniversary logo and paired serial numbers etched on each blade.
Sheath: Polished solid brass
Handle: Dark hardwood with brass ferrule, cross guard and tang nut.
Remarks: Knives originally produced as serially matched pairs to commemorate the 175th anniversary of the Siebe Gorman & Co Ltd. A limited number were produced, believed to be 500.