Introduction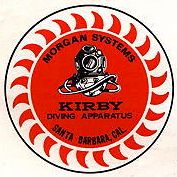 Bev Morgan worked as a commercial diver for many years. Shortly after becoming a diver, he started designing and making diving equipment. This ultimately led to the formation of Kirby Morgan in the early 1960's when Bob Kirby and Bev Morgan began to manufacture commercial diving helmets. Bob Kirby sold his interest in Kirby Morgan to Bev Morgan in 1967. Since then, thru constant research and innovation, KMDSI has developed the worlds leading line of diving helmets and full face masks. All Kirby Morgan designs are manufactured and marketed exclusively by Kirby Morgan Dive Systems.
Listening to other commercial divers and implementing many of their recommendations led to the Kirby Morgan designs becoming the standard of the commercial diving industry. This tradition continues today. Constant input from commercial divers, military organizations, and public service/safety divers has kept Kirby Morgan products at the forefront of serious diving around the world. In the late sixties the old metal Kirby Morgan Commercial and Helium "heavy gear" helmets gave way to the Band Mask, Clam Shell, and Semi-Lite line of helmets. Over the years, Kirby Morgan has designed more than thirty five helmets and masks. Many of the early models are still in use in diving operations around the world.
As diving methods have changed mask and helmet designs have continued to progress. For the design engineers at Kirby Morgan, the safety and comfort of the working diver are the most important feature of any product. Continuous research and development coupled with new and innovative ideas from our engineering staff are setting the pace for commercial diving equipment world wide. When you use a Kirby Morgan product, you are backed by years of experience and thousands of hours in the field.
Throughout it's history, Kirby Morgan has strived to remain a small, highly specialized company. Having access to many of the top vendors to the aerospace and medical industries keeps our parts fabrication on the cutting edge while minimizing the costly overhead of constantly keeping up with changing manufacturing technologies. Quality Assurance is our top priority, with repeated inspections being done in every phase of manufacturing and assembly of our products. Due to our providing products for many military organizations around the world, our QA Inspection procedures greatly exceed those of an ordinary manufacturer of civilian diving equipment. This Quality Assurance is passed on to you. Our SuperLite-17 Helmet has become a standard in the commercial industry world wide, and is also the standard of the U.S. Navy, being given the Navy model designation MK-21 Helmet. The SuperLite 27 and now the new Kirby Morgan 37 helmets are becoming the new standard with their O-ring sealed metal neck ring. Our EXO has tested out as having the best demand regulator in the world.
The Kirby Morgan 37, SuperLite 27, and the SuperLite 17A/B Helmets as well as the KMB 18 and 28 Band Masks, EXO BR Full Face Mask and SuperFlow Scuba Regulators are all certified and tested according to EN 250/E DIN 58 642 and are fully CE approved for use in diving operations in European EC compliant countries.
The nametags on the first helmets said: Kirby, Commercial Helmet. Later it turned to: R. Kirby, Commercial Helmet, Santa Barbara CA
Please note: KMDSI does not sell diving equipment directly to the end user but only via their worldwide dealer network.
Kirby Morgan Dive Systems, Inc.
1430 Jason Way
Santa Maria, CA 93455
USA
Phone (805) 928-7772
Fax (805) 928-0342
kmdsi@aol.com
www.kirbymorgan.com
A 12 bolt 4 light helium helmet with a R. Kirby nametag. Produced by Bob Kirby before he merged with Bev Morgan. This is a very rare helmet!! (only 4 were made). It was made when Bev Morgan was an employee of Bob Kirby. He took him in when he was between commercial work and was flat broke. The hat shown was made for Murray Black (Blackie) of Divecon. The saddle shaped eyes at the bottom front of the hat were for hooking into a fixture within Murray Black's submerged dive bell to remove the helmet at the end of a dive. Blackie figured he could put his own hat on, go out of the bell and do the work, return, but needed to hook the hat on something to rotate the interrupted threads to remove it. No tender was used in the bell. Bev believes he made dives to over 500 ft.in those hats
using the bell and removal system.

He also had the hats made without air control valves in the hats, preferring belly valves similar to the U.S. Navy's Mk V hats. Thanks to Mr. Bev Morgan for this information.
Photo courtesy of Leon Lyons.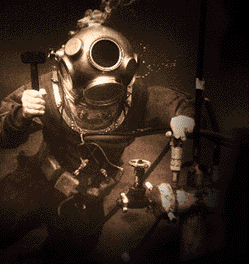 Bob Kirby at work. Photo courtesy of Bev Morgan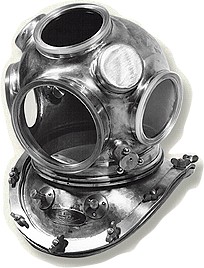 Type KMAH-1 commercial 4-light air helmet.
Developed in 1965 and produced by Yokohama Diving Apparatus until 1990.
This firm is no longer in business. Courtesy of Dive Systems Inc.
Helium helmets

Kirby Morgan began producing gas helmets in 1966 and produced about 25 helium helmets before they gave Mister Tanaka, at Yokohama, permission to produce and market them.

This is one of the Helium Helmets produced by Kirby Morgan around 1966-67.

Side view and rear view of the Helium Helmet. Each of the 4 ports are made from Plexiglass. There are 2 exhaust valves and the rear view shows the binding posts for the comms and the Bale out regulator. The canister is accessed from the inside of the helmet.

A close up view of the Kirby Morgan makers badge, notice too on the brales you can see HE O2 stamped to signify they are from a Helium Helmet.
Two rare views of the helmet in use, one as the diver is surfacing and the other with the diver out of the water.

Photos thanks to courtesy of John Durham

Have a look at this KMHEH-2 commercial 4-light helium helmet. Developed in 1965 and produced by Yokohama Diving Apparatus until 1990. That firm is no longer in business. Courtesy of Dive Systems Inc.
Make sure to visit our modern Kirby Morgan (DSI) section
Last edited 30th January 2012