Joe Savoie of Boutte, Louisiana USA deserves the credits for the first design of a practical lightweight helmet with a rubber neck dam seal.
Joe left school in the sixth grade and became a "self made engineer". He developed several innovative ideas in the field of aviation, motorized transportation and professional diving. The helmet that he designed caused a revolution in the world of commercial diving equipment in the 1960-ies. It ws the first one with a rubber neck dam seal. The Savoie helmets were all hand made using components made on machines that Joe designed himself also. He had his factory and office at his home in Boutte.

Joe passed away on march 10 1996, just after he celebrated his 70th birthday.
Joe Savoie Diving Helmet # 1
When Joe worked as a professional diver his company used old material like converted Mark V's and converted gasmasks. He did not like this and decided to design a new helmet. He used an Italian racing helmet and fitted his own steel fittings as components. The helmet turned out to work perfect. As we mentioned before, it was the first helmet with a neck dam seal, allowing the diver to work in any position. The helmet was also known as a "flip-up". The face port could be opened and swung up to the top of the helmet. It started with one helmet for personal use. Later Joe built helmets for his colleagues in the diving firm and after that for divers all over the world.
| | |
| --- | --- |
| | |
| A very nicely preserved #1 helmet. Notice the company logo Savoie's Engineering and Manufacturing Company. Photo courtesy of our valuable contributor Leon Lyons. | |
Joe Savoie Diving Helmet # 2
| | |
| --- | --- |
| | It did not take a long time for the Savoie helmet to be known all over America. There was a big demand for the helmet. Joe changed the design and eliminated the flip-up feature, air control and exhaust valves were improved. The first of these new models still had the racing helmet as a head shell. In 1971 Joe decided to use a steel shell. Over the years Joe produced several hundreds fiberglass and steel freeflow helmets for air and mixed gas diving and a limited number of demand regulator helmets. |
Pictures contributed by professional diver Magnus Lundbeck from Sweden. Look at the picture on the right: you can clearly see Joe's initials ! What a fantastic helmet.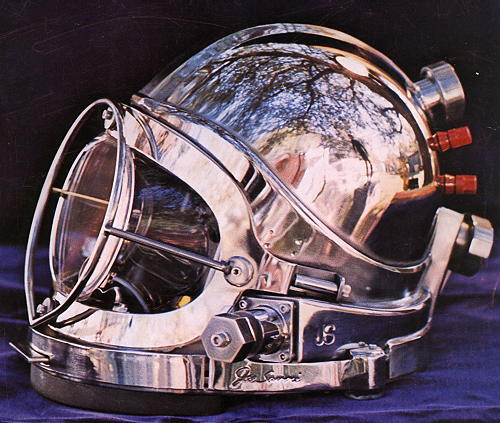 Style 2 helmet in stainless steel. A rare and nice piece of equipment!
The Savoie helmet was the example for all the other lightweight diving helmets that have been built since.
Do you have stories to tell??
Joe was a famous man. No wonder many guys in the commercial field knew him or worked with him. Do you have a story to tell? Do not hesitate and contact us!
---
The following was contributed by Ed Fogderud
Hi Bert,
I ran across these shots of my two Savoie's. The interesting thing about them is that my SS was one of the last that Joe went through before his passing and the Flip-up was the 13th and last one he made. I bought the Flip-up from the original owner who never used it. It just sat on his shelf for fifteen years, before I located and bought it.
Thanks,
Ed Fogderud
---
The following was contributed by Gary Black
Hi Karin and Bert,
I ran onto your site a few months ago and bookmarked it, til I had time to read everything.
Everything is very interesting on your site, and I know if a guy never met Joe Savoie, they really missed a good fellar.
I met Joe, at his house, through one of his nephews, Randy Savoie. Randy had told me how famous his uncle was, and how much more famous he was going to become. I saw a working model of Joe's coolest invention, or "revolution", so to speak. It was a working 40 cubic inch, 2 rotor, Rotary, gasoline powered engine. Here's the kicker, it was five years old. This was in the fall of 1969, after hurricane Camille did her thing. Here this guy was, with a revolution in the engine manufacturing industry, and he couldn't get anyone interested in his project. But evidently he finally did get someone interested in it.
I saw his work shop and quite a few hard helmets, in various stages of completion. He was very congenial and explained every detail of every aspect of his production process. I remember thinking, I am in the presence of a very blessed, special individual. We had a very good visit.
Randy and I were tenders and worked for Dick Evans Professional Divers company. I worked with Vernon Dixon. He was a pretty sharp fellar too, as far as diving went. I remember going to a dock to look at a diving bell. He was thinking of taking a saturation diving job in the North Sea and wanted me along with him. The office wasn't into these type dives, but as long as it was Vernon putting his life on the line, it was ok with them. They were the ones who would be making the bucks off this contract, if Vernon decided to go. We drove up to the dock parking. We got out of his El Camino and walked to where the bell was sitting on an angle steel crate, being strapped down. He took one look at the bell and said let's go. As we drove away from the dock, I asked him what the deal was? He said the rivets were way too big for the depth he was told the dives were going to be. He also said, if a dive starts bad, it stays bad, and as far as he was concerned, when the oil company lied to him about the depth of the dives, the job had already began to turn bad. Needless to say, we didn't go to the North Sea.
I was wondering if you know where Vernon Dixon is today? I know he use to live in Eight Mile, Al. and he and his family owned an iron works business of some type. I was in hopes of locating him, if I can.
If you have any information about Vernon, please email me. Take care and may God Bless!!
Respectfully,
Gary Black
---
The following was contributed by Jesse Dean:
I was looking at the Savoie tribute on your site and was reminded of a couple stories about Joe. I first met Joe
in November 1963. I had just arrived in Louisiana, straight out of Coastal School of Deepsea Diving of Oakland,
Ca.. Joe accepted me as a commercial diver, which surprised me, and I worked with him on many jobs in the
Gulf of Mexico while we worked for Dick Evans Professional Divers. Joe constantly talked about the new
helmet he was working on. One day Joe showed up with his helmet and a clipping I had already seen from the
local News Paper, which chronicaled Joes helmet with a picture of Joe, who had just dove his helmet, in the
Harvey Canal, for the reporters photo shoot.

You might be interested in the Aquala Green Rubber Drysuit Joe is wearing in your photo of him. Joe and I
were working on a salvage job in 220 feet of water, in the Gulf of Mexico in early 1964. Joe dressed in and was
preparing to go to 185 feet when Lee Ingersol and Walter Daspit both told Joe he couldn't dive to that depth
without getting a suit squeeze. Well Joe didn't mince words and abruptly told everyone who would listen that
he would dive the suit and that he would not get a squeeze. He was wearing a Scott Hydro Pak Demand mask
which had been modified for free flow with a valve. The mask was designed to build positive pressure by use of
an air tube running under the faceplate to the exhaust which blocked the exhaust by air pressure when the
freeflow button was pressed, in the middle of the demand regulator.

Joe grabbed a rather large galvanized shackle and attached it to his weightbelt for added weight. After the
successful, Squeeze Free, dive, joe took me aside and showed me his secret. Joe had installed exhaust
flapper valves on the inside of both suit legs, at the area of the anchles. Joe said that as he went down, head
first, he would blow air past the skirt of the Scott mask by holding the purge button down and the air would
enter the suit at the attached rubber hood and exit at the anchle exhaust flappers. I don't recall if Joe made a
bet but he did win the argument. This was probably the first use of a drysuit with a full face mask in that deep
of water, without a squeeze.

Joe had an answer for many of the problems he encountered in his commercial diving career. Joe had a sixth
grade education with an Ensteine brain and plenty of curriosity and the will to solve any task. Joe was a great
mentor.

I designed my helmet with a few tips and help from Joe. He let me dive his first helmet, before he built number
two. He got a bit upset because I put a big chip in the top of the helmet when he pulled me up, from 110' when
our compressor quit. He was still proud that his hat had helped me surface without getting hurt, from under an
oil platform. I do remember both my ears were folded down because Joes first helmet was a rather small fit. I
have fond memories of Joe and Joice. I spent a lot of memorable days at his little shop, just BS.ing with Joe.

I could tell some more stories about Joe but enough for now.

Jesse Dean
---
Dear Karin and Bert,

I enjoyed finding your fine web page. The attached
picture is my Savoie Demand Hat that I have been
working since 1980. I am a working Diver and Dive
Supervisor and published author.

I own two Savoie Hats, the demand hat and one of the
fiberglass air hats. I would enjoy gathering pictures
and writing a piece on Joe. He was truly a one of a
kind.

All the best, John Carl Roat

Here we have another Joe Savoie stainless steel helmet with a
demand valve fitted. We understand from Gary Harris that there
were only 8 of these helmets with a 'factory' fitted demand valve.

It is believed however there may be more as some divers
converted their own helmets to the demand valve type.

A side view of the demand regulator.
The trademark signature can be clearly
seen on the lower part of the helmet.
The rear view of the demand regulator showing the
comms posts and the air inlet connection.
The neoprene neck dam which was the whole essence
of the helmet can be seen hanging below the helmet.
The other side view of the Joe Savoie stainless
steel air helmet shows the clamping handle which
secures the neck dam clamp to the helmet.

In the bottom of the faceglass you can see the
microphone which sits in a clip. The helmet is
strapped securely to the divers head with a chin strap.

The helmet is weighted using a lead weight which
is a crescent shaped and mounted under the front
of the helmet underneath.


Our special thanks to Ed Fogderud for this valuable contribution.

A Joe Savoie helmet story recounted by Dave Stallwood in his own words.

In late 1981-82 I worked for a diver named Kenny Mercer at a company called Brundrett Diving & Salvage in Harvey La. When I went to work for Kenny I was as green as a lamb's turd as some would put it, and from the first night at the dock in Leeville La.,Fouchon to be exact, I would learn that to a veteran diver like Kenny, his Joe Savoie was like a piece of solid gold! He kept it in a brown plastic milk crate, and as we began loading his gear aboard the crew boat we were to be using, I reached for the brown crate and before my hand touched the plastic his bear like paw grabbed my wrist as if to say, "don't even think about it!" He stared me down with his piercing blue eyed glare and huge handle bar moustache with the tips pointed outward like an angry bull and said, "don't touch it!" Again I was clueless and he knew it! It took a few hitches before he could trust me to respect that piece of trusty equipment that he was so protective of. Then after about a year of tending for him on a particular day when on the deck of a lift barge with welding machines going full force, noise on deck made it extremely hard to hear Kenny 60 feet down, with the mic in his helmet submerged in water that was up to his bottom lip and on top of that Kenny spoke in his own cross, Texas /Cajun / pissed off, boomhower dialect, that we got into it when he got top side. Well he took off his helmet and I placed it and the neck dam in his plastic crate and slid it about 2 feet on the deck... The next thing I felt was his giant hand grabbing my throat and his other hand balled up in a fist about 15 feet in the air, ready to come down on me effectively dislodging my head from my shoulders, all along him yelling something about, "never something about that helmet." I in those few seconds realized I had disrespected an old friend, and a most trusted companion, that brushed stainless helmet that he felt proud and privileged to own. I figured I was gonner get some teeth knocked out, so again with his hand wrapped half way around my neck, and his other arm cocked back I began yelling equally as loud in my defence. Maybe that defused the moment, I don't know but I learned that that helmet was a part of him, and what I did to Joe I did to him. I could deal with that. Finally the few times I got to get into the water for Kenny I always felt pretty cool putting on that helmet. And Kenny, as hard as he was on me, he taught me lessons that shaped me into a thinking, hard working, disciplined person, and that I am grateful for. I don't know if this is a story you can use but that helmet is a symbol of a unique time in my life, that's why I googled it because I still think about it.

With thanks to and courtesy of Dave Stallwood

A brief recollection from Brian Dunn:

Brian writes, My Brother used to have a Joe Savoie hat Style 2. He stopped diving for Taylor Diving in the late 70s.
He hauled that hat all over The World and when he came to see me in Boston once in a while on his way to Belle Chase, I thought it made the NASA hats look pretty weak in comparison.
He died at 49 in 1998 on his way to the Gulf of Mexico.
Thanks for the memories.

Brian Dunn
Thunder Bay Seafood Company

I knew Gary Savoie and Joe Savoie. I knew Gary from when I worked at Taylor Diving and Salvage. I bought my stainless steel helmet at Joe's house, got to meet the whole family. I still remember the times I worked with Gary in the shop and the other guys. I wonder if Gary Savoie is still alive. I know I witnessed a part of history of diving. I tell my friends about my experiences and the people, and life in the oilpatch. There is times at night before I go to sleep that I think about that part of my life and the people who were part of that past, Taylor Diving, The Gulf of Mexico and the North Sea.I always remember the Christmas party that Taylor Diving had. Joe was there with his own bottle of Crown Royal, happy as could be.

My best to the Savoies,
Neil Baron

A Note from Brandy, Joe's Niece

Just wanted to let you all know that, I really enjoyed this piece on Joe Savoie. It is nice to know that the people he worked with enjoyed him well, but not only was he a great co-worker but also he loved his family. Joe Savoie is my uncle. My grandfather and Joe were brothers. My grandfather also use to dive, he actually wore one of uncle Joe's helmets when he dove for McDermott INC. Anyway, thanks again it is nice to know he is still being remembered for his great work.

Thanks
Brandy Savoie Lopinto

Recollections by Phillip Schaumburg

Hello
I'm a onetime commercial diver myself. Unfortunately in 2001 I had a car accident and am now confined to a wheelchair. You see when I attended the College of Oceaneering in Los Angeles I was fascinated by a silver free flow hat they had. They told me it was a Savoie and seeing my interest they showed me how to maintain it. After graduating and returning to Alabama I applied and was hired at a small local company. It didn't take long for me to realize that my employer hired young scuba bunnies that were fascinated to become diving heroes with the title deep sea diver. At first I was just looking for employment in my chosen career but when everything came to light and I saw what was happening I tried to change it because of my actual training and work ethic, I became lead diver. From that day on I tried to improve my crew's skills. Personal safety ran equally alongside task completion. One day , my boss came into the shop and said, "Look what I bought from a shrimper for $500.00 dollars." And he sat a stainless Savoie in the workbench that had a large dent in top front just above the faceplate. You see a man had been inspecting an oil rig in mobile bay when a crew boat sterned up to offload. The tender thought he was slacking the diver but was feeding the pull from the crew boats wheels. The man was drawn up into the propeller, one blade striking the top of the helmet, denting it, knocking the faceplate out. They recovered the man but never the helmet till it was caught in a shrimp net, Seeing the hat I told my boss that in college I learned to maintain Savoies so it became my pet project. I personally feel Joe Savoie was a genius crafting a well-functioning, comfortable diving helmet.

Phillip Schaumburg

A note from Sonny Taunton

My 10 year old son and I were washing dishes when he asked me if his grandfather ever invented anything.
I told him the story of when I was a young girl that he helped make a diving helmet with Mr. Joe Savoie.
My father, Hershel Langley, welded the prototype for the #2 helmet. I remember when he showed me the finished product, I ran my fingers across the fluted dome.
I am very thankful for your website, because I can show my son his grandfather's workmanship.

With thanks to Sonny Taunton

Recollections from Troup Nightingale

Hi there,

I am an ex-commercial diver who worked out of New Orleans in the 70's after 1976. I had the pleasure to tend a diver who had a stainless steel Savoie. I actually got to dive this helmet. It was truly a Cadillac in its day. During this period, anyone who had a Savoie was a God!!! Joe was a guy who had an inspiration and developed a helmet that was not only beautiful, but actually worked in the field. I truly love this SS helmet and would rather have it than a Mark V as a collectible item. Actually, I would still rather use it as a working dive helmet. Cheers to Joe for such a forward thinking idea!


Well, I am too old now to remember things so long ago, but felt like I remember Kenny Mercer of Brundrett Diving and Salvage who was mentioned in a previous post. I used to work for Brundrett back in the late 70's. I think I really remember a Kenny. Don't remember what he was diving, but seems like no one was allowed to touch it (a Savoie!)! I was a tender at that point. I do remember a job we were on at a small oil platform. Don't remember what we were doing there. We had to do something that required a tender to walk across a 6 inch pipe to get to the other side of the platform to be able to tend the diver (Kenny) with his air hose and probably some other equipment. It was early in the morning when the crew boat deposited us on this un-manned oil rig. There was dew all over everything, including the 6 inch pipe. It was up to me to cross this pipe. I got on the pipe sitting and started across humping my way across. Kenny (and I am sure this is the same guy) called me back and was a bit upset that I didn't just walk across on my feet. Well, as a tender, I did what the diver said and came back. He then grabbed whatever cable or hose I had and started walking across the pipe. Well, several of us had looked at this pipe with dew all over it and had noticed a sheen of oil on it at the middle - thus why I had straddled it and was humping my way across. Kenny got to the middle section quite rapidly on his feet and also quite rapidly slid off the pipe and fell the 20 or so feet into the water! You can imagine the laughs we had and the justification about my "neophyte" humping method across the pipe. End result was another tender humped himself across the pipe in the same manner I had attempted!

If this is the same Kenny, I love this guy! He was very good to his tenders and fellow divers. He would take the time to explain everything he was going to do and what you needed to do to support him. He was jovial and an all-around good guy. Wish I still knew him now.

I appreciate my years in the commercial diving field out of New Orleans. I wish I had the ability to contact more of the friends I had out there. My best friend out there was Tom Missig (my buddy and roommate while at Commercial diving school in Florida) who worked for Taylor Diving and Salvage. He broke a leg in the North Sea when a pipe or something clobbered him. Sadly, Tom is no longer with us a result of a drinking illness liver issue - sound familiar for divers?!

A month or so after I left the field, I heard that the diver with seniority to me and the diver I was senior to had a catastrophic dive. They worked together to clear debris from an oil rig at an undetermined depth. One went down, did his thing, came back up and went through the decompression chamber tables for the depth the pneumo gauge stated. The second diver did the same thing using the same hose setup. A little later, the first diver had a CNS hit. They started decompression tables on him. About a half hour later, the second diver began a CNS hit. They worked on both divers in the chamber. Both of them were seriously hit and are both paralysed today. Turned out that the pneumo gauge hose had a hole in it at least 20 feet above the actual working depth. So, they ran them on the wrong decompression table. One of them would have been me.

Anyway, I know I digressed from the intent of this page dealing with Joe Savoie's diving helmets. But, maybe you will post this. The Savoie Helmet was the best thing going and the stainless steel version was an awesome helmet for us to use during these early days! Maybe I will hear from my old friend Kenny! If so, contact me at troup@rocketmail.com. Maybe I will even hear from my other friends while I was out there!!! So glad I was in the field and so glad I got out when I did!

Troup Nightingale
Southeastern Photography
http://www.southeasternphotography.com
Last edited 16th November 2013