Friedrich Flohr was a producer of diving helmets and equipment from Kiel in Germany.

He started production of the 3 bolt Denayrouze pattern in 1890. The first style of helmets was the regulator type and this style was in use by the German Navy until around 1908.
The free flow style became more popular and many of the regulator helmets were converted to free flow from then on. Flohr developed a unique quick release system to jettison the divers weights in an emergency as seen below.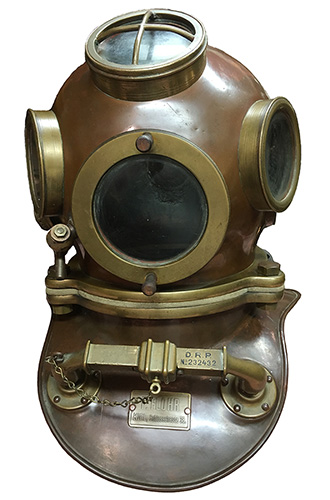 A good example of a Flohr 3 bolt helmet.
| | |
| --- | --- |
| | |
| The helmet with the quick release mechanism open. | Close up of the quick release mechanism with the makers plate. |
Side and rear pictures. On the rear photo below the neck rings and the central bolt you can see the hook on which the regulator was hung. The addition of a hook however does not always
signify that the helmet was a regulator helmet as some free flow helmets also had hooks. We can only assume that the patterns were not changed when the style of bonnet changed.
On the right hang photo we can see a blanking cover. This is the point at which the backpack was one connected to the hose, revealing this was once a regulator helmet.
Photos courtesy of Ed Fogderud
Last update: 10th April 2017