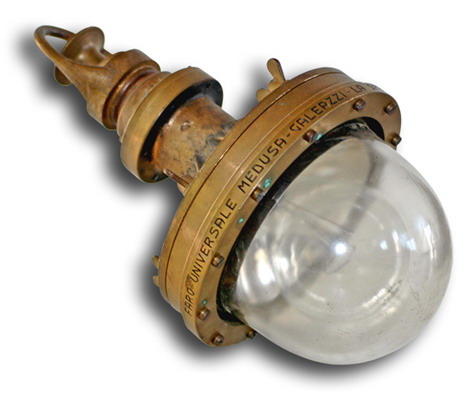 Photo courtesy of JP Paszula
Manufacture: Galeazzi - La Spezia
Country: Italy
Year: Not Known
Dimensions: 43 cms high X 25 cms diameter 18 inches X 10 inches
Method of operation: Always on
Weight in Air: 14 Kgs
One or two hand: One
Lamp Type: Tungstan type 500 Watts
Material: Brass
Inscription on lamp: body Faro Universale Medusa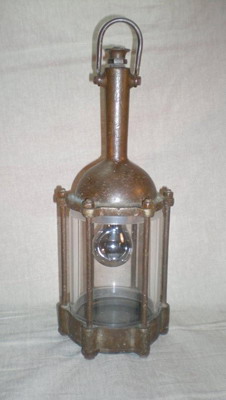 photo courtesy Mikael Zingmark
Manufacture: ASEA (Allmanna Svenska Elektriska Aktiebolaget)
Country: Sweden
Year: Not Known
Size: 44 CM including hook (17 1/2 inches)
Weight: Approx 16 lbs
Method of operation: Always on
One or two hand: One
Power source: Electricity
Lamp Type: Tungsten type
Depth rating: Approx 80 Metres
Material: Gunmetal or brass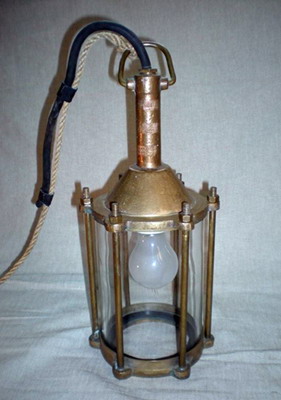 photo courtesy Mikael Zingmark
Manufacture: Emil Carlsson & Son Company
Country: Sweden
Year: Not Known
Size: 40 CM including hook
Weight: Approx 12 lbs
Method of operation: Always on
One or two hand: One
Power source: Electricity
Lamp Type: Tungsten type
Depth rating: Approx 80 Metres
Material: Gunmetal or brass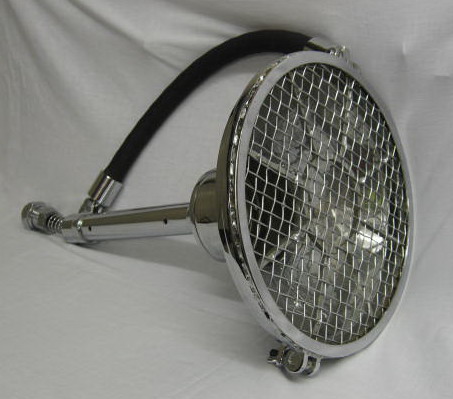 Manufacture: Modern Metal Manufacturing Corporation
Country: United States
Year: 1950
Dimensions: 21 inches in total length x 12inches in diameter
Weight in air: 12 lbs
Method of operation: Always on
One or two hand: One
Power source: Electricity
Lamp Type: Tungsten type
Depth rating: 250 - 300 feet
Material: Chrome on brass - Handle black rubber.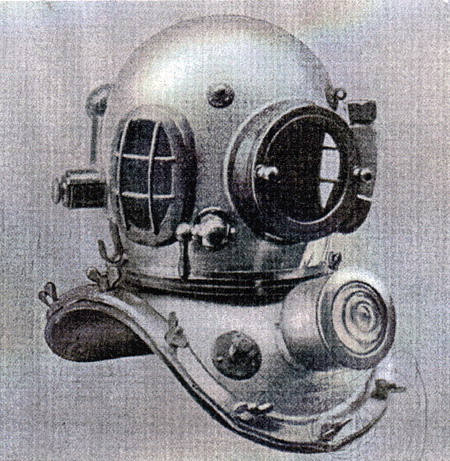 Manufacture: Siebe Gorman & Co
Country: England
Year: 1900
Dimensions: 3 inches in diameter
Weight in air: 17 lbs
Method of operation: Always on
One or two hand: Fixed to corselet
Power source: Electricity
Lamp Type: Tungsten 16 candle power
Depth rating: 200 feet
Material: Gunmetal
Remarks: Illustration taken from an early Siebe Gorman catalogue. The lamp could be fitted on any helmet and had a ball and swivel socket to enable the lamp to be angled in any direction.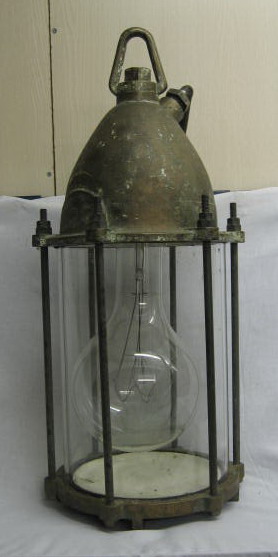 Manufacture: Siebe Gorman & Co
Country: England
Year: 1950
Dimensions: 24 inches high x 10 inches diameter
Weight in air: 44 lbs
Method of operation: Always on
One or two hand: Tender lowers from above
Power source: Electricity
Lamp Type: Tungsten type 1500 Watts
Depth rating: 200 feet
Material: Gunmetal
Catalogue code: Incad
Cost when new: £30.00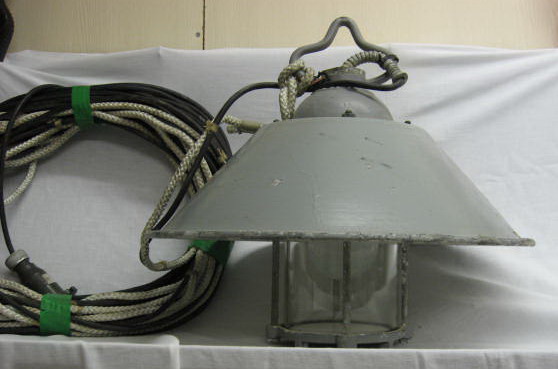 Manufacture: Siebe Gorman & CO Ltd London
Country: England
Year: 1952
Dimensions: 17 inches Diameter x 16 inches high
Weight in air: 17 lbs
Method of operation: Always on
One or two hand: Lowered by tender from above
Power source: Electricity
Lamp Type: Tungsten type 200 watts
Depth rating: 200 feet
Material: Gunmetal
Manufacture: Possibly Draeger
Country: Germany
Year: estimate 1940-1960
Dimensions: 360 mm long 125 mm in diameter.
Weight in air: 11 kilos.
Method of operation: Always on
One or two hand: Die to weigh possibly 2 handed
Power source: Electricity
Lamp Type: Incandescent 100 Watt
Depth rating: estimate 60 metres.
Material: Gunmetal