Introduction
Known to commercial divers throughout the world DESCO was first organized in 1937 as a Wisconsin corporation under the name of Diving Equipment and Salvage Co. Its organization was the result of several events which occurred during the preceding years.

During the early 1930's, a Milwaukee diver, Max Gene Nohl, had received national publicity as the result of his salvage operations on a sunken steamship, the "John Dwight." This brought him to the attention of a Hollywood producer, Col. John D. Craig, a pioneer in underwater photography, who was interested in filming the possible salvage of the torpedoed Cunard liner, the "Lusitania," which lay in 312 feet of water off the Irish Coast. At that time, no equipment or reliable techniques were available for sustained diving operations at such a depth, and it was obvious that such a project would require both physiological experimentation and an advance in diving equipment design. Although no actual attempt was ever made to salvage the Lusitania due to the looming war in Europe, its challenge caused Nohl to join forces with two other Milwaukeeans. The first was Jack Browne who was also a diver. The second was Edgar End, M.D. of the Marquette University School of Medicine who was a pioneer in the new science of hyper baric physiology and medicine.

Browne and Nohl worked together on the design of a new type of lightweight, self-contained diving suit. At the same time they worked with Dr. End to explore the promising possibility of preventing nitrogen narcosis by having the diver breathe a mixture of helium and oxygen rather than air. The first result of this collaboration was the incorporation of DESCO as the manufacturer of the newly designed diving equipment. The new corporation was largely financed by Mr. Norman Kuehn, a Milwaukee businessman. Browne and Nohl became its first full-time employees. Browne was also one of its shareholders. The second result was that, On December 1, 1937 in the cold waters of Lake Michigan, Max Nohl succeeded in diving to a depth of 420 feet, thereby breaking a depth record which had been held by a U.S. Navy diver Frank Crilley, since 1915. Nohl accomplished this feat using DESCO's new diving equipment and breathing a heliox mixture prescribed by Dr. End.
World War II brought large Navy contracts for diving equipment to DESCO. They included not only conventional hard-hat gear for the navy, but also the design, development and manufacture of an oxygen rebreather, known as the "B Lung for the Office of Strategic Services, forerunner of the CIA." This, for the first time, permitted divers to swim freely under the surface, in the manner of SCUBA divers today, but without producing bubbles which might disclose their position. By V-J Day, DESCO was producing more diving equipment than any other company in the world.
DESCO by then had its own pressurized wet tank, and on April 27, 1945, Jack Browne used this tank to "dive" to still a new record depth of 550 feet of sea water. As in the case of Nohl's earlier dive, he breathed a heliox mixture under the supervision of Dr. End. Both dives were milestones in the development of modern techniques of mixed-gas diving. In 1946, Norman Kuehn and Jack Browne sold the company to another Milwaukee businessman, Alfred Dorst. Under Mr. Dorst, the company continued to design and manufacture U.S. Navy and commercial diving equipment but also broadened its product line to include a variety of sporting goods, including water skis, aquaplanes, swim-fins, spear-guns, and simplified oxygen rebreathers, such as the "A Lung," intended for use by sports divers. At about this time also the company changed its name to "Diving Equipment and Supply Co., Inc."
After the Korean War, which again brought an increase in U.S. Navy contracts and orders, the ownership changed hands several times, and during this period it went out of the sporting goods business. Ever since, it has concentrated solely, as it did at the start, on the design and manufacture of commercial and U.S. Navy diving equipment.

In 1960, Max Nohl and his wife were tragically killed in an automobile accident.
In May 1966, DESCO was purchased by Tom and Marilyn Fifield. In 1968 it moved to its present address at 240 North Milwaukee Street in Milwaukee. Mr. Fifield was responsible in the 1960's for the design and development of the DESCO Diving Hat which remains a standard piece of modern equipment for diving with air in relatively shallow water where mixed gases are not needed. Also the company, in addition to its full line of conventional diving equipment, has continued to improve and manufacture its famous DESCO Full-Face Mask which originated in the early design efforts of Jack Browne and Max Nohl. This mask has probably been used in more total hours of diving than any other piece of equipment ever made.

The Present
DESCO continues providing quality diving equipment under the leadership of Ric Koellner. In recent years we have made upgrades and improvements to our products and product offerings. DESCO is the importing distributor for Hunter Dry Suits and accessories. We are also the importing dealer for the DEEPSEA Lightweight Diving Helmet in the Americas. We have made upgrades to the DESCO Air Hat, and we introduced the Bob Kirby inspired Browne Commercial Diving Helmet. The expansion of hobby collectors and diving enthusiasts has brought a resurgence in demand for classic helmets and a demand for more repair and restoration services. We provide repair and parts services to the collector and enthusiast market. DESCO is a recognized resource for writers, artists, historians, and film makers. DESCO manufactured the helmets, weightbelts, control valves, shoes, and knives used in the movie Men of Honor. DESCO also provided equipment to the films The Deep, and The Legend of Sawtooth Island. We loaned a helmet to Milwaukee County for a special exhibit at the Horticultural Conservatory Domes. We have provided technical information and photographs to artists and writers for projects.
The Future
DESCO is looking towards the future at new products and services. As the industry evolves DESCO will keep pace with new products and assure that our current products meet or exceed industry requirements. DESCO will continue to explore new product possibilities and marketing opportunities to bring our customers top quality equipment and services.
Contact
DESCO Corporation
240 N. Milwaukee Street
Milwaukee, Wisconsin 53202
Phone: 414-272-2371
Fax: 414-272-2373
E-mail: diveq@execpc.com
Hours are from 7am to 3pm Central time Monday through Friday.
Copyright © 2004 DESCO Corporation
US Navy Mark V
Helmet # 198, dated december 20st 1942. Photo courtesy of Stephen Raulston

Helmet number 334 is dated May 21st 1943. On the nametag is says "Diving Equipment and Salvage Company".





Another great Mark V Serial number 2125 dated 15 01 45 . This one has the Navy inspector's stamp
Photo courtesy of Gabriel y Monica Paz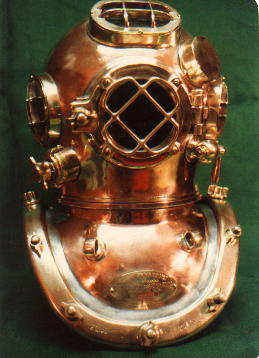 The same hat but a bit older. Have a look at this fantastic DESCO Mark V from 1945, number 2146.
Photo courtesy of Robert Croot.

Tinned Mark V from november 1945

| | | |
| --- | --- | --- |
| | | |
| | A DESCO US Navy Mark V that can still be ordered today. | |
Mark V helium helmet
DESCO also produced helium helmets. Have a look at this fantastic one.
Number 2424 is dated march 5 1945. Visit our "Going Deep" section to learn more about mixed gas diving.


DESCO still produces helium helmets as well.
Browne Utility helmet
In the 1948 DESCO catalog we read:

"The Browne utility helmet and dress is the most practical all round diving outfit that has ever been constructed. The complete outfit, which weighs 135 pounds, operates with compressed air up to 300 feet maximum depth, allowing the diver greater comfort and providing more efficiency than any other diving suit with a helmet. No breastplate is necessary and either the Browne 2 piece dress, with entry through the waist, or the Browne back entry type can be used. The diver has a wide range of vision with a comparatively small, light helmet which, with it's streamlined construction, includes all of the latest features for efficient underwater work.

The helmet shown is equipped with telephone communication and standard Navy combination lifeline and cable. Special note should be taken of the diver's exhaust valve with the non leak back features. It is impossible for water to enter the helmet through the exhaust valve, regardless of the position the diver is in. A diver operating the suit is more comfortable and can do considerably more work underwater in a limited period of time.

The helmet is constructed of spun copper and is heavily tin plated and has cast brass fittings which are highly polished. The window is of high grade durable plastic. Helmet is a vailable in one size only and weighs 21 pounds".

The Browne Utility helmet was produced in some quantity and this helmet was the base for the Buie Gas Helmet which came later.
Also sharing the Browne Utility shell and neck ring set were the model 100 and 106.
Second style Browne utility helmet
A Modified style 106 Browne Utility helmet.
This is Model 106 Browne Utility helmet which had been modified by the addition of a MarkV breastplate and a non original air control valve.
| | |
| --- | --- |
| | |
| | Here is a different style Browne utility helmet, intended for use as a self contained helmet. The lid near the divers' mouth can be opened. A hose is than attached and leads to the combined chest weight. This chest weight holds CO2 absorbent material. The diver carries 2 oxygen canisters on the back. In this case the helmet is mounted to a MkV breastplate. Photo courtesy of Kenneth Hendrickson. |
Browne Utility Gas Helmet
Front view of Browne Utility Gas Helmet This helmet has 2 windows Rear view showing the telephone blister and the re-circulator inlet/outlet connections.

Rear view showing the new canister assembly and lower neck ring built by and fitted by DESCO

Thanks to Bill Pelky of DESCO for his invaluable help
Commercial diving helmets
| | |
| --- | --- |
| | |
| A brand-new DESCO Sponge hat available on the market today for commercial use. | A brand-new DESCO Abalone hat available on the market today for commercial use. In this case for a left handed diver. |
Photo courtesy of DESCO
Commercial diving helmets
Typically small volume, this DESCO Sponge Helmet is of the typical design used for Sponge Diving.
A large front port and un-guarded side and top ports with an adjustable exhaust which can be overridden by a head operated button inside the bonnet.


Another Sponge Helmet made by DESCO this helmet has had an unusual addition. A telephone receiver cup has been added.
It has a large volume and appears to be a home-made addition. In common with many Sponge helmets this one has had several repairs.

Photos by Diving Heritage

For their 60th anniversary DESCO issued this limited edition Abalone helmet. You are a lucky guy if you can get one, only 20 were produced.
Commercial DESCO helmet, build in 1956. Photo Courtesy of Toucan 2
AGAR 3037
DESCO commercial AGAR 3037 12 bolt 4 light helmet
The Agar helmet features a single spring adjustable tension head button exhaust valve. Windows are secured by Abalone type rings without bars. Newer ones have the non-return integrated into the air inlet elbow. The Agar can still be ordered today.

| | | |
| --- | --- | --- |
| | | |
| | DESCO commercial helmet number 1014 from the year 2000 | |
Make sure to visit our modern DESCO section
Last update: 7th December 2012