Hansen
Hansen was the Danish inventor of the 2 bolt helmet. It has a metal clamping piece with a bolt on the front and on the back. After the diver has put on the dress, the clamping piece is put under the Indiana rubber collar. The breastplate, which is formed integral with the helmet, has a hole back and front, corresponding with the bolts on the clamping piece. It is put over these bolts and the whole is then screwed up with two nuts.
This helmet was very popular for easy short diving jobs in shallow water. The reason for this was the opening in the dress. This was so large that the diver could be dressed by just one attendant. In this way the costs could stay low: one diver and two guys on the lever pump was all that was needed !
Various companies produced the 2 bolt helmet. Also Siebe Gorman. They also had a period where they bought the hats from Danish producers (like Guttapercha) and put on a Siebe Gorman nametag........
One of the earliest 2-bolts
Here is one of the oldest 2 bolts we have seen. Notice the typical construction of the bars over the sidelights. This helmet carries matching numbers 303 and the crown stamp indicating
the helmet has been approved for use by the Danish Maritime Authority. All helmets used in Denmark had to be approved in this way. Each helmet was then registered to a certain diver
who was duly authorised to carry out maritime work. It is also worth noting that Danish helmets are not necessarily numbered chronologically. As old helmets were removed from service
newer helmets could and were assigned the vacant number, meaning a newer helmet could have a lower serial number. It dates from circa 1900. Photo courtesy of our friend Rob Krul.
Later styles
Later styles often had telephone facilities and sidelight guards that are very similar to those on Siebe helmets.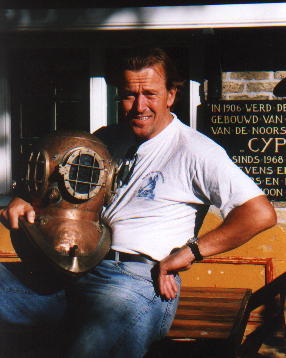 Bert Dodde from The Netherlands with a very nice and old Hansen 2 bolt.
The helmet carries the Crown stamp, indicating use in the Danish Navy.
It's great to hold a wonderful piece of diving heritage!
Photo courtesy: Wreck Museum Terschelling, The Netherlands.
Last updated: 12th October 2011