Like Ludwig von Bremen, Franz Clouth from Cologne used the French regulator helmet as a base to design an improved version around 1880. This helmet still featured the same problems: the regulator was connected to an air pump at the surface by a long air hose. The German navy used this equipment for quite some time. The reason for this ? The German Admiralty said that diving with just a hose to the surface was less secure than diving with a regulator, giving the diver an extra amount of air in case of an emergency.
| | |
| --- | --- |
| Clouth regulator helmet 1898 | This drawing from the German Navy Divers Handbook 1898 shows the improved regulator helmet. As you can see the wingnuts were replaced with bolts. Below you see (from the same manual) the elbow inside the helmet that ended in a mouthpiece for the diver. |
| | |
| --- | --- |
| | |
| Detailed drawing of the regulator produced by Clouth | Valve mounted between the bonnet and the regulator. In case of ripping the regulator pipe, closing this valve would prevent drowning. |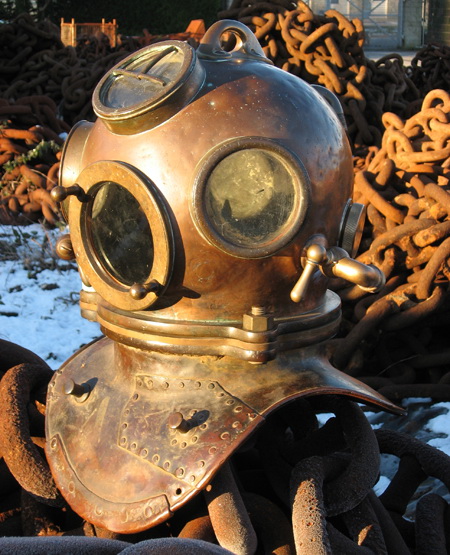 Of typical German design this 3 bolt 4 light helmet has a removable face glass and weigh hooks to the front of the corselet.
There is a handle on the top of the helmet and a closable valve on the divers left side. This design was Patented by Clouth in 1894.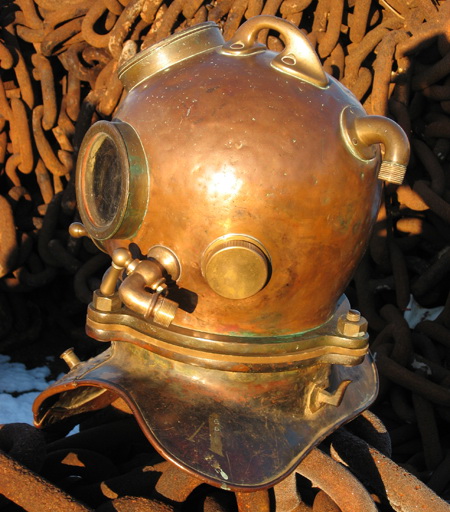 Rear view of the helmet with a clear view of the regulator valve. This valve could be closed by the diver in the event of ingress of water to the regulator and helmet.
To the rear of the helmet you can see the hook used to hang the regulator on, this a in turn secured around the diverís waist. The large blanking cap covers the telephone connection.
Later, Clouth used the renewed Denayrouze 3 bolt helmet as a base for his own 3 bolt helmet.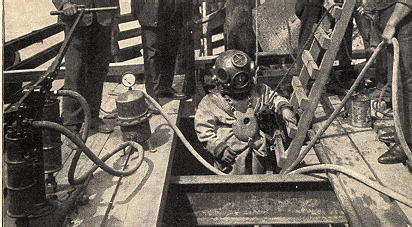 Another day at the office. Diver in Clouth equipment about to descend. Picture taken around 1910.
Last updated: 17th November 2010