The Republic Of Chile in South America is a long narrow country bordered on one side by the Andes and on the other side by the Pacific Ocean . It has over 4600 kilometers of coastline and has a very varied and interesting variety of landscapes. It is also the longest N-S country in the World and its islands, including Easter Islands some of the Polynesian Islands and Robinson Crusoe Island reach far into the Pacific Ocean. These Islands extend Chile's claim to territorial waters over a huge area. It is not surprising therefore that the Chileans were prolific helmet builders and divers and the abalone divers from Chile used the copper helmet technology right up to the 1980s when over fishing all but closed the industry down.

There are many different designs found but one thing in common was that the the helmet's rugged construction survived the harsh and continual use the helmets had to withstand. It has been said there are no two helmets alike but certain similarities can be found . They were nearly always three light and four light examples are rare . We have not seen a Chilean helmet with a communications facility though they may exist. The side windows were often oval. The fittings were often heavily soldered onto the bonnets . The helmets appear utilitarian but their simple design and rugged beauty has made them collectable all around the World.
A nice Chilean 12 bolt 3 light helmet. It has no telephone facility. These hats can be recognized by the typical oval shape of the side windows. Photo courtesy of Leon Lyons.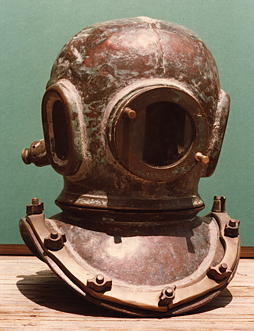 On close examination we can see this helmet has been made in two
equal parts and braised or soldered together right down the middle.
This helmet has the classic oval windows and also no name badge.
Photo courtesy of Leon Lyons.

Another classic design, 3 light 12 bolt, notice again the
heavy soldered joint running up the centre of the helmet.
The side window solder is crude but functional.

Rear view showing the heavy joint and the helmet
locking device with the retaining pin missing.

Side view with the oval windows and heavy solder.

Photo courtesy of Ed Fogderud.



A different style of 12 bolt, again with 3 windows but definitely showing
influence of the Siebe Gorman helmet design. On this helmet we cannot
see a join in the helmet so this must have been spun, suggesting the
helmet may have been made in a larger factory with more sophisticated
machinery. The breastplate appears to be beaten and even the
Tee wrench has the appearance of a Siebe Gorman wrench.


Rear view of the helmet showing the inlet gooseneck with the non
return valve. The fixing point is riveted to the bonnet and is heavily
reinforced. The exhaust valve is heavily soldered and angled to the
front of the helmet to make it easier for the diver to operate.
There is a locking device to the rear of the helmet but the pin is missing.


Side view showing further influence of the Siebe Gorman helmet with the window
grills The overall shape of the helmet again resembles the Siebe Gorman helmet.
Notice also the interesting combination of wing nuts used on this helmet's brailles.

Photo courtesy of Ed Fogderud.



This is another design, this one has round windows and a much smaller
face glass. The join in the centre of the helmet can be clearly seen.


The rear of the helmet shows what may be some repair or modification work.
The gooseneck is both riveted and soldered on this helmet.

The side view clearly illustrates how small the side windows are in comparison with other helmets.
One benefit of the smaller windows is that the exhaust valve may be acutely angled towards the diver
for ease of operation. The solder whilst fairly crude is smoother than on other helmets
and the hand beaten breastplate has a smoother appearance too.


The classic 3 light helmet design with oval windows and the pronounced brazed seam down
the centre of the helmet. The workmanship of this helmet appears to be more skilful
than others we have seen. Possibly because this was factory built and others were copied by
artisans from other parts of the country who could not quite replicate the detail produced in the factory.

Photo courtesy of Ed Fogderud.


Puerto Montt is the main port of the Lake District and has a population of around 200,000 people.
It is therefore not surprising that the helmet manufacturer Equipos Submarinos Americanos Co Ltd.
Set up business there. The city was first developed by German Immigrants in 1853 and is now the main
business hub of the busy Lake District. The lakes are situated south of Santiago De Chile the Country's capital and about
a two hour air journey from there. The scenery is spectacular as there are volcanic mountains which are snow covered close by.

Can you contribute a picture of your Chilean Helmet? If so please email the pictures to info@divingheritage.com
Last update: 14th January 2011