Introduction
Mike Carson, former President and Founder of Divetech Corporation in 1973, designed and developed the Model 2500 Helium Gas Recovery System. The first unit was sold to the Canadian Government. The next unit was sold to the United States Navy Experimental Diving Unit in Panama City Florida.

Before then, Carson designed and manufactured diving equipment for the TV and Film industries as far back as the last days of "Sea Hunt" working along with Mike Dugan and the late Lamar Borne into the 1970's.

In the late 1950's, Carson was one of the youngest hard hat divers in the Los Angeles harbor. In 1958 he worked with the late Al Hansen, wrapping the first pilings in Los Angeles harbor at the Mattson Dock, and built diving helmets and other related diving equipment such as cameras and underwater lights.

In 1970 Carson came out with the Mark III Air Hat, a fiberglass helmet and also a fiberglass Mask; the MK - II, and one diver com box.
This first line of products sold under the name of Divetech, and Later, in the 1970's sold as Carson Dive Systems.

In 1976, Carson designed some products for U.S. Divers Company, one being a helmet called the Com Hat I, which was never completed by Carson. Some time later Carson was brought back to U.S. Divers to design another helmet called the Com Hat II. Again, someone else finished the helmet.

These eventually led to legal ramifications and threats from other manu- factures. Carson survived this experience and eventually, Carson left the diving industry.

Carson is back doing business under Carson Dive Tech and is now developing a line of products; which will be coming out soon. Mike still dives from time to
time only if the pay is good.
Fiberglass Carson Mark III air helmet with chromed brass fittings and neckring.
This helmet was produced in 1970.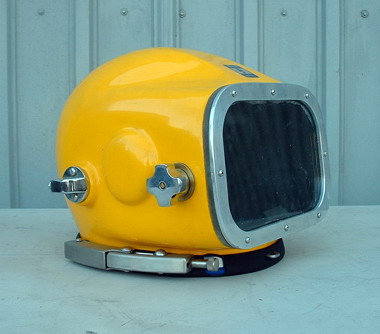 A Fiberglass Carson MARK 3 produced more recently.
Photo courtesy of Gary Harris
The Carson 2500 Stainless Steel Diving Helmet
Solid 316 Stainless Steel

High flow characteristics

Low noise level

Low Volume

Modular design

1/4"Lexan face plate

No special tools required.

The Carson 2500 Stainless Steel Diving Helmet was designed to be the world's
deepest diving helmet, for use to a depth of 2,500 ft. This helmet was designed for
the commercial and military industries and should be used only by professional and commercial divers. This helmet is not to be used with scuba or other recreational type diving equipment.


Each helmet is custom manufactured to meet the customer's requests, such as
off-the-shelf parts from other manufacturers such as Aqua Lung America (former U.S. Divers Company), KMB-10, Navy MK-1 Mod-0, and Kirby Morgan parts; only as provided by the customer or at the customer's request.


Courtesy: Mike Carson / Carson Dive Tech




Seen here together the Fiberglass Carson MARK 3 and the Carson 2500 Stainless Steel Helmet.

Photo courtesy of Gary Harris
Last edited 18th January 2010