Ben Millerís story by Jan St. Anne Miller
When Bert from Diving Heritage asked me to write an article about Ben Miller I knew that I could only give a personal profile of him. I will do my best to show Ben as few people would have seen him.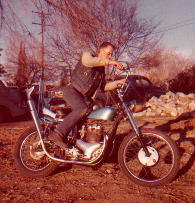 Picture taken in 1961
Ben on a customsed B.S.A
His passion for bikes would last a lifetime
A wonderful article by John Kane and Leslie Leaney was published in the Historical Diver Magazine, Fall , 2001 Issue gave dates, facts and technical information. John Kane contacted Ben and asked permission to do this article and Ben gave him all the information. This was good as I would have been unable to be exact about dates etc.. No one knew that Ben would not be around when the article came about.
Who was Ben Miller? I suppose the answer to that question depended upon who you are.
To the diving industry he was the man who designed and developed the Miller Diving Helmet as well as weight belts, harness, backpacks and a special quick release buckle for his weight belts.
Ben Miller was a commercial diver who, as a young man tended his older brother Gene, a diver in the Gulf off Louisiana. Ben once stated "the glamour and attention given to the deep sea diver was enticing" and he made up his mind to join the ranks of the commercial divers. He didnít have the money to buy his gear so he made his own . His first helmet was constructed of fiberglass and after making six of them he turned his attention to metal.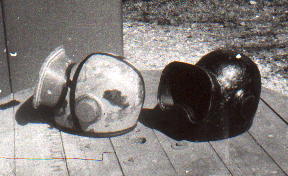 Picture taken in 1967
On the left is the first fiberglass mold
On the right is the first fiberglass shell
| | |
| --- | --- |
| | Finished his first diving helmets! This picture was taken in 1968. On the left you see the very first helmet Ben ever made of fiberglass (out of the mold pictured above). On the right you see the first helmet of fiberglass that Ben produced in a small series of six. The first one was for his brother Gene. |
The above right helmet, 34 years later. It now rests at Ben's and Jan's ranch in Texas where it returned in 1999 when Gene died
He continued his diving career for 11 years and during that time tested and created the Miller Diving Helmet series. There were 23 of the 100 series helmets made.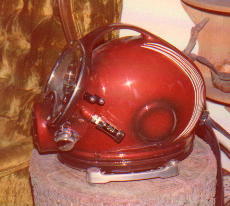 1969: brandnew Miller 100 that Ben built to dive himself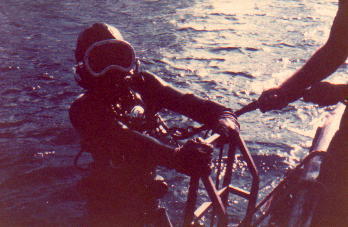 Ben had an 11 year career as a diver in the offshore industry
The above helmet, 32 years later. It now rests at Ben's and Jan's ranch in Texas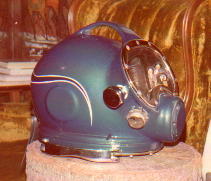 Another 100 beauty from the series of 23
Produced around 1969
In 1968, Ben designed a bronze buckle for a diverís weight belt. He later added a torsion spring of stainless steel to provide for quick release of the belt in case of emergency. The first weight belts were made of leather which was later changed to a heavy, multi-ply rubber.
Ben began designing and making diving harness and backpacks as well as the weight belts. He had a great respect for the qualities of stainless steel and refused to use any other metals in the manufacture of his harness gear.
In 1972 he created a new prototype helmet featuring a quad cam system to hold the helmet neck ring in place. It also had an externally mounted regulator as well as dual adjustable exhausts to afford easier maintenance for the diver.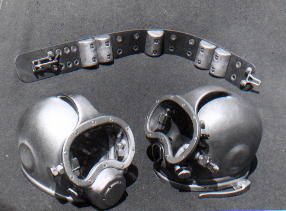 Picture take around 1971. Left is a 100, right is the FIRST prototype of the 200.
Top is the first weightbelt, made of leather with round weights, brass gromets and quick release buckle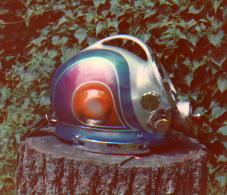 Picture taken around 1975.
On divers demand Ben could arrange many different finishings.
Diving helmet fashion!

Click here to continue to part two of the Ben Miller article
All text and photographs in this article are © copyrighted by Jan St. Anne Miller