Introduction
Noel McCully was born in Hawaii in 1950. As a youngster he was always in the water. Noel graduated from the University of Hawaii and from there went to the Commercial Diving Centre now the College of Oceaneering. During his varied career he has worked on all three United States coasts as well as Europe, the Caribbean and the Pacific region. Most of Noel's recent work has been involved in Ship husbandry as a contract diver for the Navy.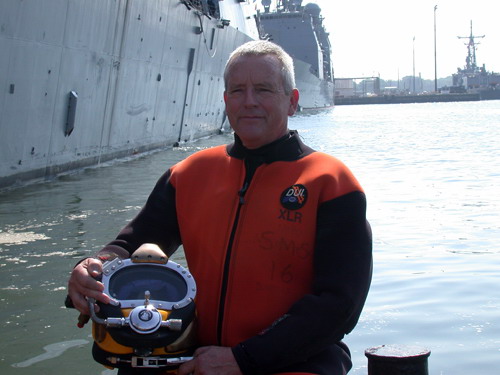 Noel McCully dressed for a dive with a Kirby Morgan helmet.
At 57 years of age you can probably imagine Noel has spent some considerable time underwater but just how much time?
Well, Noel has just established the Guinness World record for 'The Most Hours Underwater in a Diving Helmet' . How many hours? 20,554 hours (twenty thousand five hundred and fifty four), that's a lifetime of diving!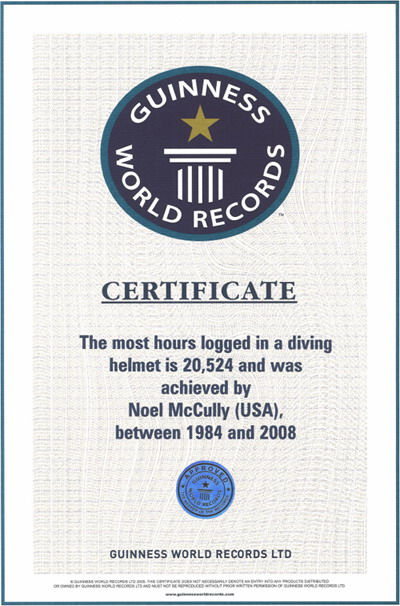 Guinness World Record certificate for Most Hours Underwater in a Diving helmet.
Noel currently lives in Virginia and works for Seaward Marine and hopes that with a little luck and some tricks of the trade he will last another 20, 000 hours.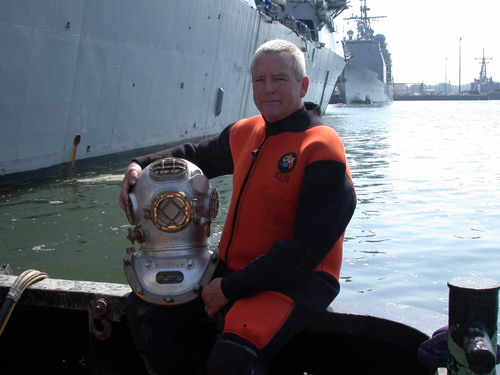 Noel with his DESCO Mark V standard Diving Helmet.
Officially Amazing…..
Noel has just logged in excess of 25,000 hours, a new Guinness World record for number of hours in a Diving Helmet. This fantastic achievement was made between 1976 and 2013.
We are sure all our visitors will wish to send congratulations to Noel on this truly fantastic World Record. Well Done, Noel !!!
Last update: 1st October 2013