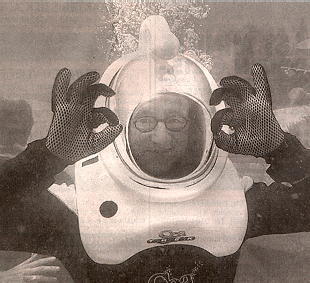 Some years ago, the American company Sub Sea Systems, introduced SNUBA in the tourist industry in the Carribean, a mixture between snorkling and scuba diving.

Now, this company introduces the Sea Trek diving helmet. This 6.5 kilograms fiberglass helmet is surface supplied and worn by tourists. They are taken down to about 7 meters (under supervision) and introduced to the underwater world.

Like with any shallow water helmet, the surplus of air escapes at the shoulders. This hat has a great futuristic design and we did not want to hold it back from you......