Introduction
William Sadler from London was one of the first in the rotary pump business. He constructed this double acting one cylinder pump around 1840.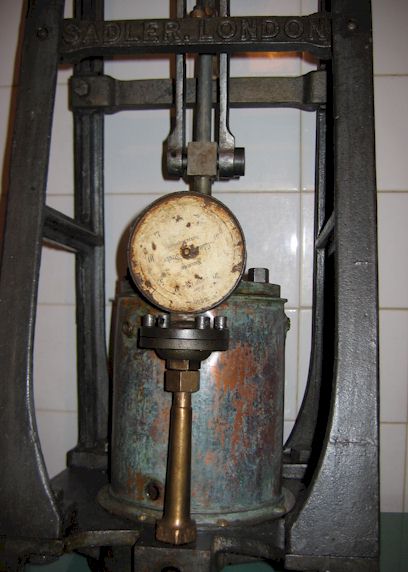 Picture contributed by Professor F. Bubalo, historian and museologist, currently volunteering at Croatian Maritime Museum in Split Croatia
Heinke constructed a four cylinder single acting rotary pump in 1875. In rotary pumps, pistons are moved in a cylinder block. Attached to the crank-shaft, that makes a rotating movement, are a number of bars, corresponding to the number of cylinders (e.g. 1 cylinder = 1 bar, 3 cylinders = 3 bars). They are connected via a crossbar to a vertically up and down moving piston-bar with piston.
The crank-shaft is moved by hand-power, using handles. To achieve an equable movement, the crank-shaft is fitted with one or two heavy fly-wheels.
With these pumps we can make a difference between single-acting and double-acting pumps. It is possible to encounter the following types of rotary pumps:
one cylinder double-acting (one diver in moderate depth)
two cylinder single-acting (one diver in moderate depth)
two cylinder double-acting (two divers simultaneously in moderate depth or one diver in deep water)
three cylinder single-acting (one diver in moderate depth)
four cylinder single-acting (two divers simultaneously in moderate depth or one diver in deep water)
The gauges on the pumps indicate both the pressure of air and the depth of water at which the diver is working.
Single acting pumps
Air is only compressed on a down-going movement of the piston. The top of the cylinders on these pumps is open. Divers could see how it worked and everybody trusted these pumps.
Heinke
A four cylinder single acting rotary pump that can be admired in the diving museum on the isle of weight in England.
Photos contributed by our friend and DWEG buddy Andre Merks.
August Schrader

A fantastic three-cylinder single acting Schrader rotary pump from the States. Notice that the top of the cylinders is open. You can see all the details and you can picture yourself how it works. All the rotary pumps operate in the same way but most of them were fitted in a large wooden chest for protection. Next to two MkV's you see a Craftsweld divers telephone. Photo courtesy of Bob Croot.
Rene Piel
The nametag indicates that it was made at a time that Rene Piel from France produced diving equipment under the licence of the Denayrouze company. For this reason we estimate the pump to be from 1920.

Clearly visible: 3 cylinders, open on top. The pressure gauge has an enamel dial!

All photos with courtesy of our friend and DWEG buddy Rob Krul.
Morse
| | |
| --- | --- |
| | Three cylinder single-acting pump dated 1924 with Morse commercial hat and Craftsweld radio. Please note that the pressure gauge is NOT standard on these pumps. Photo courtesy of Bob Croot. |
Double-acting pumps
On a down-going movement of the piston, air is compressed in the lower part of the cylinder. In the (closed) part on top of the cylinder, air is sucked in. In an up-going movement, this process takes place the other way around. Thus, the pump delivers a "double" amount of compressed air.
The top of these cylinders was closed. Since divers could not see how it worked, it took them some time to trust these pumps.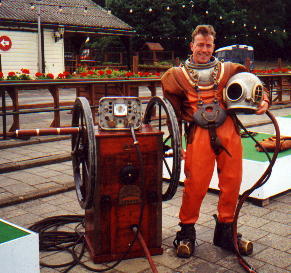 Bert Dodde from The Netherlands after a dive in a Siebe 6 bolt rig
with one cylinder double acting pump
Rotary pumps have, dependent on the number of cylinders and whether they are single or double-acting, a larger air produce and better capabilities to compress air to greater pressure. For this reason, they were mostly used on the more heavy and deeper dives.
2 cylinder double acting Siebe Gorman pump from 1905. Notice that the top of the cylinders is closed. On the left you see it in the condition it was found in. To the right you see the restored glory. At this moment Matteo is working on the chest.
Photo courtesy of Matteo Tagliapietra.
Morse
| | |
| --- | --- |
| | Morse 2 cylinder double acting pump in perfect condition. Referred to in the US Navy as the Mark III and designed for depths up to 30 meters/90 feet. Notice that one fly-wheel is attached the wrong way around, both handles are underneath. Photo courtesy of the management of the Sao Paulo energy museum in Brasil. |
Waycock
On both the above pumps you can see the air-distributing arrangement or Waycock. (on the Siebe Gorman above the left gauge and om the Morse above the right gauge). Most brands of two cylinder double-acting pumps and four cylinder single-acting pumps are fitted with this arrangement, which enables each double-acting cylinder or each pair of single-acting cylinders to act independantly of the other, or both double-acting cylinders, or all four single-acting cylinders, as the case may be, to deliver their air through one nozzle, to a single diver. The arrangement is worked by a rod, operated by a lever.
There are two positions on the waycock:
"one diver deep water" air from all cylinders comes from the left-hand nozzle only
"two divers" each cylinder (or pair of single-acting cylinders) delivers air through its own nozzle.Two divers can now work independantly of each other, using only one air pump.
When only one diver is going down, his air-hose should always be connected to the left-hand nozzle. Should the diver ask for more air, the second cylinder (or pair of single-acting cylinders) can be switched on. When the air-hose is attached to the right-hand nozzle and we put the lever over to "one diver deep water" his air supply will be cut off immediately.
Pump chest
Rotary pumps were placed in a chest to prevent them from damaging. This chest had openings for the pressure-gauge, to add cooling-water and to repair the cylinders. Through the top lid the pump is accessible to oil the crank-shaft.
There are four metal rings fixed to the chest. This is for transport reasons and to tie the pump up on a diving-vessel. The pump is fitted with a small buffer and an air-cleaning device, called the oil sepetaror.The oil seperator is mounted beween the pump and the first air-hose. It contains an absorbent material that will filter out oil (used to lubricate the pistons), leather particles and other material that might damage the valuable air-hose.
Draeger
Next to lever pumps, Draeger produced one and two cylinder double acting rotary pumps with one or two fly-wheels.
| | |
| --- | --- |
| | Draeger pump being transported by two attendants. The transporting bars were foldable and could be kept in the pumps chest. |
The handle bars are divided in three or four separately rotatable pieces. Rubbing the hands on the bars is no longer needed.
For the workers operating the rotary pump the job was a lot harder than the "up and down" movement of the lever pump. The reason for this ? Many times way to small fly-wheels were used. Draeger did some tests and expanded the size of their fly-wheels. The results were amazing. One guy was capable of operating a rotary pump on his own with one hand.
Until the start of the 20th century, all diving pumps were powered by hand. For larger diving works one started to fit pumps with belts to connect them to steam-engines or burning-engines.
Later the hand pumps were partially replaced with mechanically powered compressors. Nevertheless: hand pumps have supplied divers with air until the nineteen sixtees.
Pump maintenance
never take the pump out of it's chest when there is no specific reason for it
never take the pump apart when there is no specific reason for it
moving parts need to be oiled lightly with machine oil every now and then
pumps with bronze cylinders have leather cuffs inside that need to be oiled with olive oil or glycerine every now and then
pumps with metal cylinders have metal piston-rings that need to be oiled with machine oil every now and then
when a pump is not used for a longer period you have to make the pistons go up and down a couple of times every week.
Want to contribute? contact us at:
info@divingheritage.com
Continue to "Modern ways of air-supply"
Last edited on January 11th 2005