The Lerios sponge diving helmet
Copyright © by Sandra Hendrikse and André Merks
| | |
| --- | --- |
| During the latter half of the 19th century commercial sponge fishery developed in the Gulf of Mexico (America). For years Key West, the most southern part of the state Florida, was the Epicenter of the sponge fishing industry. Around the turn of the century sponge beds were found in the northern Gulf of Mexico, in the surroundings of Tarpon Springs. In the beginning fishermen used long poles to hook sponges from "hooker boats" but in 1905 the first of Greek sponge divers were brought in to Tarpon Springs. From the year 1905 hundreds of Greek sponge divers established at Tarpon Springs. They came from the Greek islands like Halki, Symi and Kalymnos. At that time, the sponge diving industry in Greece had growth to her maximum and large groups of divers where seeking for opportunities in other parts of the world to do what they did best; diving for sponges using the hard-hat method. | |
| | |
| --- | --- |
| | The Greek sponge-divers brought with them the technology of hard-hat diving and plans of the boats in the Mediterranean. Just like the Greek sponge diving industry, Greek divers, boat builders, deck hands and buyers organized in Tarpon Springs a system of buying and grading sponges. Machine shops for building engines and other (spare) parts of sponge boats where needed. These machine shops also manufactured diving helmets and other parts the sponge divers needed. Two names of machine shops which also manufactured diving helmets were Avgerinos, and Lerios Marine. The first master helmet maker in Tarpon Springs was Anthony Avgerinos. In "Helmets of the deep" (Leon Lyons, 1989) a picture of the "Avgerinos" helmet is shown on page 143. Avgerinos was sometimes helped by another machinist who had also a machine shop in Tarpon Springs; Anthony Lerios. |
Anthony (Tony) Lerios was born on the Greek island of Kalymnos in 1892. As a boy, five years old, he moved with his parents to Istanbul, Turkey. He worked in the shipyards, where he acquired his education and became a master craftsman and engineer. He came to Tarpon Springs in 1913, when he was 21 years old. Anthony Lerios started his machine shop where he made a good living out of compressors, propeller guards, and anything else of metal that kept a sponge boat in business. He also started manufacturing sponge diving helmets. Over the years he refined his design of his "Lerios diving helmet", making the helmet more comfortable for the divers. Anthony Lerios passed away at age 100 in 1992.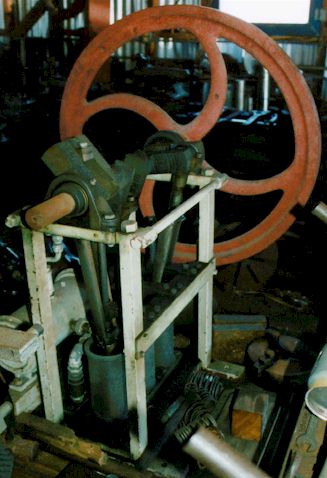 Greek crafsmenship. This 3 cylinder single acting pump was designed and hand built by Anthony.
Before Anthony Lerios passed away, his grandson Nicholas Toth, had assumed the family machine shop and was continuing the tradition of crafting diving helmets. As a young man Nicholas toth began to absorb much of his grandfather's knowledge. He admired his grandfather's skills and ability to solve mechanical problems. In his late 80's Anthony Lerios wanted to slow down and retire. Nicholas Toth assumed the family business and continued crafting diving helmets, the way his grandfather did for years.
Old and new style tags
It takes around 140 to 150 hours for Nicholas Toth to make a sponge diving helmet. Besides the knowledge of his grandfather he is still using the same tools. Cast iron forms, handcrafted by his grandfather are used to hammer a sheet of copper to fashion the shoulderpiece (photo 13) and the helmet itself (photo 14). When the helmet is shapened four holes are cut in the helmet; both sides, font and top. These four large openings are for the diver to see. Two small holes are cut into the helmet for air-inlet (at the back of the helmet) and for the outlet valve (on the right side of the helmet). Nicholas Toth fabricates all of the other parts, from the precision air valves to the smallest wing nut.
These moulds are used to hand shape breastplates and bonnets. They were handmade by Anthony and still used every day by Nick.
Continue to part 2 of the Lerios Marine story