Diving
In the summer of 2000, Leon dove his Augustus Siebe helmet for the first time. That's where helmets belong, in the water! Today, Leon still takes this and other helmets down. I hope one day, we can make a nice weekend arrangement for DWEG also!
With a little help from tender John Gallaghan the diver is dressed and he descends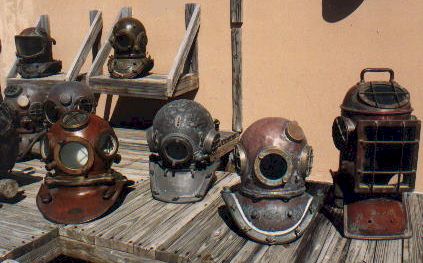 Collecting helmets is a passion. It takes an hour to get to know them, a day to start loving them and a whole life to forget them.
Look at them enjoying a sunbath. Can you determine them?
Again, you will find the answers in our museum.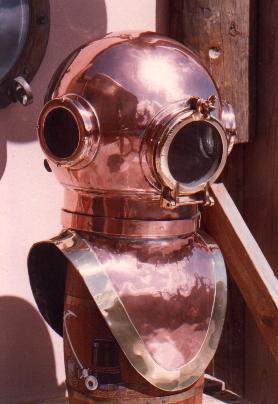 This rare beauty that was once in Leon's collection,
now resides in an English collection.

| | |
| --- | --- |
| | Here we have Ada Coleman from Bethlehem Pensylvania diving in a Chinese outfit in a rock quarry in Pensylvania , at one of the Northeast Diver's rallies. More recently Ada has dove a shallow water Miller Dunn style 3 , at Marineland Sea Aquarium . Marineland was the first sea aquarium ever built in the United States to help showcase creatures from the sea. |
| | |
Future plans ?
Since the publication of his book, Leon is still on the lookout for diving helmets and has added many more to his collection. He says it still feels like only yesterday he started collecting. The next project was to have started 2 years ago. A book on diving knives. Leon has about 1500 (!) diving knives in his collection. These include about 300 hardhat knives and a couple of hundred from the frogman, UDT, Sealteam's, etc., kind of knives from a lot of different countries. All the rest are scuba knives from the 1950's to the present. Leon is now trying to find the time to start this monstrous project. He says he will need many screwdrivers (orange juice and Vodka) to help him on the way!
We will make sure to add the new book to our collection as soon as it is released. Because you know it: it will be a collectors item in no time.....
All text and photographs in this article are © copyrighted by Leon Lyons
Last update: 2nd January 2008