A first class diver
In 1956, Joe passed the Navy's First Class Divers school where he was credited with a standard air dive to a depth of 300 feet and a mixed Helium/Oxygen dive to a depth of 385 feet.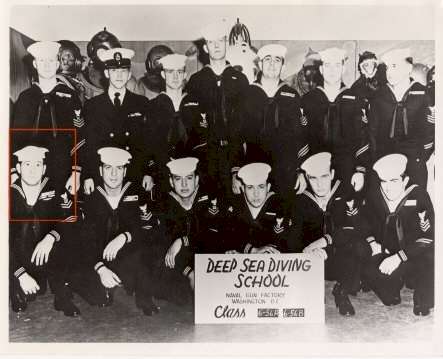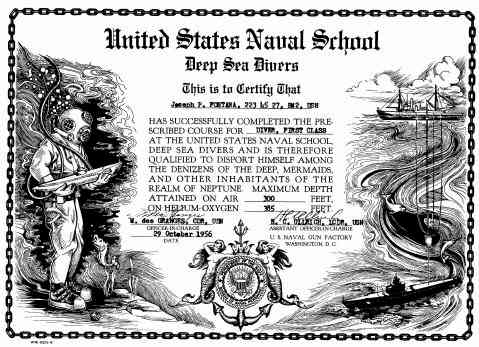 Joe Fontana's first class diver certificate, dated October 29 1956
As a newly qualified First Class Diver the two paths of his underwater career converged with his transferred to the submarine rescue vessel USS Skylark (ASR 20) in New London, in November of 1956. During his tour on the Skylark he attended the Navy's Underwater Swimmer's School where he qualified in the use SCUBA apparatus.
In September of 1959 he was transferred to the submarine tender USS Fulton (AS-11) where he continued his diving duties in support of the Atlantic submarine force.
Joe's next duty station was at the Experimental Ordnance Unit (EOD) in Key West, Fla. For a diver this was a dream assignment. The principle assignment for divers at EOD was the location and retrieval (or disposure) of unexploded experimental ordnance. The job entailed almost daily SCUBA dives in some of the best sport diving waters in the world.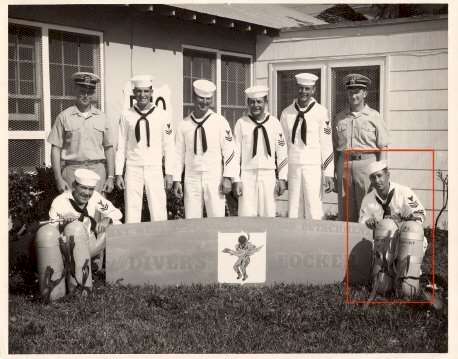 From this ideal diving assignment Joe was transferred to diving support for the Atlantic Polaris Submarine Squadron based in Holy Loch, Scotland. From October, 1961, through November, 1963, while assigned to the submarine tenders USS Proteus (AS-19) and USS Hunley (AS-31), Joe dove in the cold, dark waters of this Scottish loch. Although a far cry from the warm clear waters of Key West, he led his diving teams to keep the front line deterrent force in prime operational condition.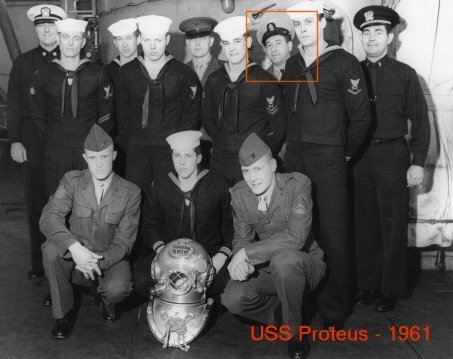 During this tour, he had the opportunity to attend Master's Diving School. In 1962, at the age of 42, he completed Master's school but was not selected for the rating. It was a bitter disappointment that stayed with him the rest of his days.
After the tour in Scotland, Joe returned to Key West and served aboard the submarine rescue vessel USS Penguin (ASR-12). In September, 1964, he returned to the Submarine Base in New London assigned to the floating dry dock ARD-5. This was his last duty station. After almost 30 years of adventure on and below the waves he retired on August 2, 1965.
One Last Dive
For most people that would have been the end of their diving history, but not Joe. After a lingering illness he passed away on February 14, 1983. But he had one last dive to make. On March 26, 1983, three of his four sons with the help of several sailors aboard the USS Miller (FF-1091) tended him over the side one last time. In accordance with his last will and testament he went to the bottom in full dress uniform wearing a pair of 20 lb "helium boots" and full weight belt.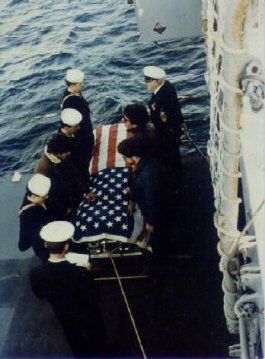 He always said that when he hit the bottom for the last time he wanted to land on his feet. He stands at Lat 390 40.5 N, Long 710 49.0' W, 761 fathoms below the waves.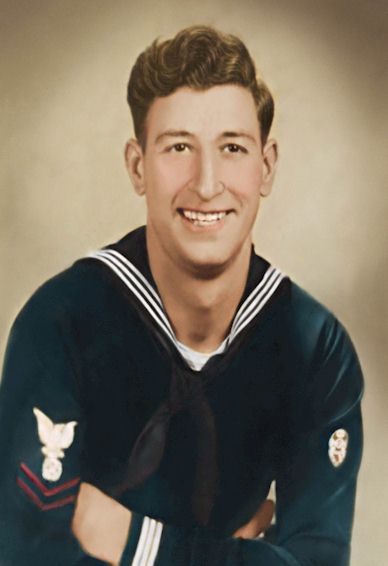 Joe Fontana. 1920 - 1983
Joe wrote this resume late 1965:
CAREER RESUME
Joseph P. Fontana
Groton, Connecticut
VOCATIONAL OBJECTIVE
Diving Supervisor
PERSONAL BACKGROUND
Born.: September 9, 1920 Social Security No. xxx-xx-xxxx

Married, four children

Health: Excellent
MILITARY STATUS
Enlisted U.S. Navy - March 23, 1938

Transfer to Fleet Reserve August 2, 1965 as Chief Boatswain's Mate(DIVER)

(5342 - DIVER, FIRST CLASS), Secondary Job Code - SCUBA Diver.
EDUCATION
CIVILIAN
High School, GED, State of New York
SERVICE SCHOOLS
Basic Submarine School, Second Class Divers School,
Harbor Defense School (Nets fc booms), Salvage Diving School,
Deep Sea Diving School, Underwater Swimmers School, Master Divers School
U.S. NAVY CORRESPONDENCE COURSES
Seaman, Boatswain's Mate 3fc2. Boatswain's Mate I fc Chief,
Military Requirements for PO I fa Chief, Cargo Handling,
Seamanship, Marine Navigation, Naval Orientation, Watch Officers Guide
Navy Regulations
EXPERIENCE and SKILLS
Diving Supervisor - In charge of underwater repairs, changing of screws, conducting savage inspections on both fleet and Polaris submarines, in charge of rigging 8t periscope installations.

In charge and senior instructor in maintaining and operating Second Class and SCUBA diving school; of all of ships diving gear and equipment plus 50 foot diving boat.

In charge of diving locker at Naval Ordnance Unit, Key West, Florida.

Helped plan and execute diving phases of testing and evaluation of project work for various projects for the Navy and Civilian Technicians.

Worked with classified underwater ordnance and their recovery in deep water.

Leading petty officer and in charge of deck evolutions on an ASR (4 point moors, launching and recovery of the rescue chamber, recovery of torpedos,towing,and salvageoperations)

Qualified Recompression Chamber Operator and Rescue Chamber Operator.
All text, photographs and graphics in this article are © copyrighted by the Fontana family
Last edited April 27th 2004