TOA

Take a close look at this TOA item. Sometimes you get offered other "helmets" that look just the same but with a different nametag. In the next page you can see a Poseidon item that is just the same but with a different nametag.
| | |
| --- | --- |
| | |
This item is supposed to be a helmet that is supposed to be 40 years old. It was sold to one of our viewers. The tag reads TOA Diving Apparatus Co.,Ltd Minamsenji USA. The shell is spun copper with soldered joints. It has working exhaust valves with a exhaust channel inside. The air supply doesn't have a non-return valve but this did come apart. The finish is not great, lots of sand holes in the castings. There is no helmet lock. In the back of the helmet there is a fitting that seems to serve no function. It is located where the telephone line should be and is not soldered in. There are air intake diffusers inside the helmet. The soldering flux wasn't cleaned off very well inside. Look at the Posei-don replica. These items are the same. Only the nametag differs. A good warning to all of you: phonies now can feature working valves and air control channels.
Another item sold on ebay. It features mark V look alike windows and Korean look alike exhaust and air inlet. Have a look at the front window: it is hinged but still has the knobs as if you have to screw it in ! Leave American TOA's alone ! The only real TOA comes from Japan.

Nametag on a phony TOA helmet
MINAMSENJI

Nametag on another phony TOA helmet
MINAMSENJI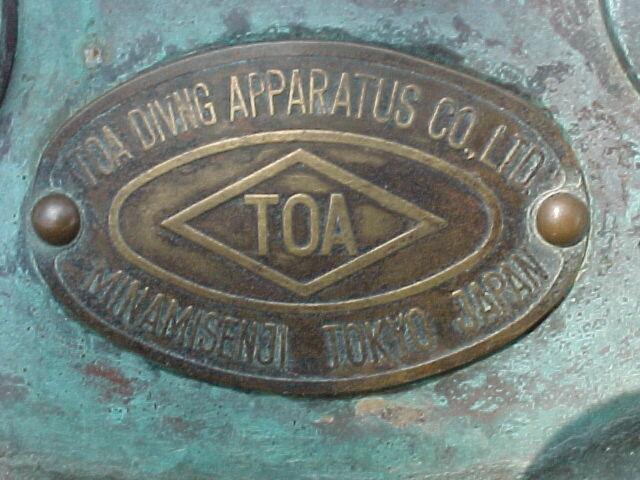 Now this is what a real TOA tag looks like. Trust us, Minamisenji is NOT in the States but in Japan !
| | |
| --- | --- |
| | Another piece of Asian craftsmanship. Look at the position of the nipples. They are very close together and not ligned up properly.The faceplate is hinged but also has knobs as if you could screw it in and out as well ! |
| | |
| --- | --- |
| You must be a fool buying this hat as a real one after reading the phony-section ! This is a fiberglass Japanese phony. In the picture the bonnet is even put on the wrong way round on the corselet ! You see the nipples and the nametag on the back. | |
| | |
| --- | --- |
| | Another fiberglass phony, this time from Japan (Or Taiwan ?) In the picture you see a Fiberglass TOA hat. Only picking it up should alert you not to pay the main price for it... |
Medi
| | |
| --- | --- |
| | As you have seen in the German section of the helmet collection: only 250 MEDI helmets were ever made. However: there are a lot more than 250 people who would love to own a MEDI !!! Therefore they are still produced in Russia to this day. Be aware..... |